1980's Halloween Hauntings!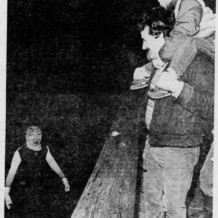 Thirty years ago, werewolves, ghouls, and monsters filled Glen Providence Park on October nights for the annual Halloween Haunting. The descriptions in the newspapers are fantastic – my favorite is from 1986: "For 50 cents, the brave of heart can hike a half-mile through [Glen Providence Park] to enjoy being scared by actor Freddy Kruger,… water creatures, a chain-saw man, Dracula and his bride, and more. A magician will entertain those waiting in line along State Street. After completing the eerie walk, visitors will receive a cup of cider and the director's assurance that no one will follow them home."
Delaware County Parks & Recreation held the Haunted Woods in Glen Providence Park from 1981 to at least 1991. It was quite a production, with dozens of volunteer actors channeling Dracula, Frankenstein, Wolfman, Phantom of the Opera, monsters, ghosts, goblins, and of course Freddy Krueger. A "ghoul usher" led visitors along trails lit with pumpkins, past the entrance and pavilion that had been transformed into macabre scenes, with creatures jumping out from behind trees, under footbridges, and even from the pond! The evening ended with refreshments at a witches' den.
Not surprisingly, we have heard this was pretty scary! Based on the comments on our Facebook page when we have shared these descriptions, it would seem that the "swamp man" (in scuba gear!) in the pond made the most memorable impression. In one vivid description, Matthew O. recounted, "I was about 11-13 and somebody in the pond grabs my leg and tries to drag me in the drink. If I didn't heavily resist I would have gone in for sure. I don't think the event was regulated for safety."
A call for volunteers in the Philadelphia Inquirer in 1991 – "Volunteer ghouls needed for haunting" – is the latest record we have found of the Halloween Haunting. Much like the past 4th of July fireworks in the park, it would likely be unrealistic to bring back the Halloween Hauntings, due to liability and crowd management concerns. But October will always be special in Glen Providence Park – Halloween is Glen Providence Park's birthday!
In the spirit of Halloween, you can read the park's spooky-strange 1700's Newlywed Ghost Story and 1800's Witches Ride from local folklore.
Happy 81st Birthday, Glen Providence Park – and Happy Halloween!!!
If you have any photos or memories of the Halloween Hauntings in Glen Providence Park that you are willing to share, please email me at FriendsoftheGlen [at] gmail [dot] com!
Sources – Philadelphia Inquirer articles:
October 24, 1982
October 23, 1983
October 28, 1983
October 26, 1984
October 19, 1986
October 29, 1987
October 20, 1988
October 14, 1990
October 10, 1991