2017 Arts in the Park!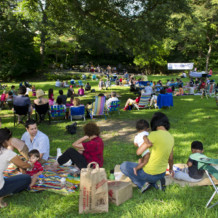 Announcing… Friends of Glen Providence Park's 2017 Arts in the Park! We have another eclectic mix for our sixth year of performances, with a Master Storyteller; a Grateful Dead tribute band, a Singer-Songwriter; and Andean & Latin American Folk Music!
Summer Evenings in the Park
Glen Providence Park
Main entrance, 550 West State Street, Media
Saturdays: 5:00-6:30pm
with Sunday rain dates
Enjoy an early evening performance at the historical concert stage, then walk 2 blocks into town for dinner and shopping on State Street!
Mark your calendars!
Master Storyteller Odds Bodkin
Saturday, June 3
Grateful Dead tribute band Splintered Sunlight
Saturday, July 8
Singer-Songwriter Jeffrey Gaines
Saturday, August 12 – rescheduled to Saturday, September 23
Andean & Latin American Folk Music with Eco del Sur
Saturday, September 9
Thank you:
This summer's Arts in the Park was made possible by funding from Project Stream, a grant initiative of the Pennsylvania Council on the Arts that is regionally administered by the Greater Philadelphia Cultural Alliance. Additional support for Project Stream is provided by PECO.
Thank you to our concert sponsors Media Recreation Board and West End Walk, restaurant sponsors Seven Stones Cafe, Sterling Pig Brewery, Shere-e-Punjab, and Diego's Cantina, and to Delaware County Parks & Recreation, without whose support these concerts would not be possible.
General Logistics:
Free and family-friendly!
Performances are at the Glen Providence Park Stage, downhill from the main entrance on State Street in Media.
Rain dates are the Sunday after each scheduled performance. If the rain date is used, the decision will be posted by 12:00 noon Saturday on our website and Facebook.
Seating is on the lawn – bring your blanket or chair, and perhaps bug spray!
There is a parking lot at the State Street entrance and along State Street and West Street.
We encourage you to walk or take public transportation: the main entrance is just 2 blocks from the end of the Media trolley line, or less than a .6 mile walk from the Media train station.
More details on each performance coming soon!