Recap: Splintered Sunlight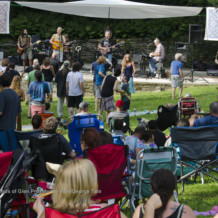 An audience of wonderfully diverse, joyful and pleasant folks streamed into Glen Providence Park on July 8th to enjoy the vintage sounds of one of the premier tribute bands in the tri-state area.
From the first unmistakable note of the generation-spanning classic Shakedown Street, the six extraordinarily talented musicians that comprise Splintered Sunlight transfixed the crowd and transported us from the "Summer of Love" through one of the most fertile eras of jam-band history, all courtesy of their incredibly accurate renditions of highlights from the Grateful Dead's iconic catalog.
The audience response to the era-defining classics Bertha, China Cat Sunflower, I Know You Rider, Truckin' and Friend of the Devil attested to the durability of the Grateful Dead's sounds and sentiments that distilled a generation's emotional response to the times. The words and music continue to speak to a wide age demographic – from those who grew up with the Dead soundtrack as it developed to the grandchildren of those of the era.
The Glen Providence Park historic stage once again proved its integrity and timeless essence when a member of this respected band that plays some of the best rock venues in the area commented, "This is such an awesome place. It's beautiful. There's not a bad seat in the house".
Inside the arc of picnic tables that describes the Park's version of the Parquet Circle, the energetic and inspired young, old and in-between were able to jump and jive with barefoot abandon on the grass within just a few up-close-and-personal feet of the performers. Others soaked up the "60's" ambience while scattered across the hillside on their portable chairs and picnic blankets, with the youngest "DeadHeads" lounging in strollers and encased in carriers of all description.
With the weather at its best, the setting idyllic and the music sweet and clear throughout the glen, those fortunate enough to visit Delaware County's First Park at showtime on July 8th realized this evening was definitely not simply One More Saturday Night!
♦
Many thanks to all who made this concert possible: Delaware County Parks & Recreation, a grant from the Pennsylvania Council on the Arts, Concert Series Sponsors Media Recreation Board and West End Walk, Concert Sponsor Sterling Pig Brewery, our volunteer Concert Committee, Marcia Tate for her artful decoration of the stage, the hundreds of people who attended, and of course Splintered Sunlight!
This summer's Arts in the Park was made possible by funding from Project Stream, a grant initiative of the Pennsylvania Council on the Arts that is regionally administered by the Greater Philadelphia Cultural Alliance. Additional support for Project Stream is provided by PECO.
Click on any photo for a closer look, or scroll through to see what it was like!
Photos by George Tate