9-9-2017 Eco Del Sur!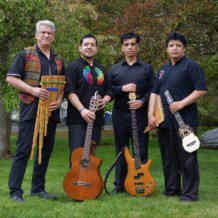 For the penultimate* performance in our free and family-friendly 2017 Arts in the Park, Friends of Glen Providence Park is delighted to present Eco del Sur for Andean & Latin American folk music! Founded in 2000 by musicians from Colombia and Ecuador, Eco Del Sur means "Echoes of the South." They play a wide range of styles and rhythms influenced by the Pre-Columbian, Spanish, and African cultural heritages.
Arts in the Park
Saturday, September 9
5:00-6:30 pm
Glen Providence Park Stage, State Street, Media
Rain date: Sunday, September 10
Eco Del Sur's amazing array of musical instruments includes traditional and indigenous ones created by the Pre-Columbian civilizations more than 5,000 years ago… used to play famous Latin American songs that are now part of the world popular culture!
Bring a blanket or chair, and relax on the lawn by the historical stage for a late afternoon concert! After the performance, head into Media for dinner and shopping, just 2 blocks away on State Street. As with all of our events, this performance is free, family-friendly, and open to the public.
Thank you:
If the weather is questionable, we will post on Facebook and on our website by noon Saturday whether we will use our Sunday rain date.
For logistics, and for information on our other summer performances, please see our 2017 Arts in the Park announcement! *Eco del Sur was originally to be the final performance in our summer series, but the Jeffrey Gaines concert, originally scheduled for August 12, was rescheduled to September 23.