Wildlife Habitat Plantings!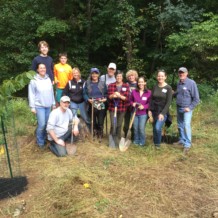 For our 7th National Public Lands Day on Saturday, September 30, we installed wildlife habitat plantings at the base of the sledding hill in Glen Providence Park! This year, 15 lovely adults, teens, and kids volunteered a combined 60 hours digging (at times with pick axes!), planting, mulching, installing deer fencing, raking, and watering. A volunteer cleared trash along the trails, and a hiker happened upon us while walking his dog, then stopped and helped us dig one of the most difficult (rocky) holes!
We planted canopy trees that will someday shade the path, flowering understory trees for spring beauty, and fruit-bearing Pawpaws and Flowering raspberries for culinary adventures! The planting site was downhill of the wooden fence and berm on the sledding hill – in an area where Delaware County Parks & Recreation has been battling erosion – and uphill from our 2014 streamside buffer plantings. As they grow, these trees and shrubs will help further control erosion and slow stormwater runoff to Broomall's Run.
In addition to helping control erosion, the plants benefit wildlife by providing habitat and seeds, nuts, fruits, and nectar for mammals, birds, butterflies, and other pollinators. We planted 21 native trees and shrubs, and protected 9 existing native saplings with deer fencing – the complete list is below.
Our hours spent planting are preceded by many hours of planning and site preparation. The day before our planting, our Weed Warriors crew cleared invasive Japanese stiltgrass to make room for the plantings, installed deer fencing on some native tree saplings in the planting area, and moved materials down to the planting site.
We have so many to thank for their help with this project… starting with all those wonderful volunteers!
The volunteers were fueled by delicious coffee generously donated by Seven Stones Cafe, by donuts thoughtfully contributed by one of our volunteers, and an amazing 3′ x 3′ square pizza (four pizzas in one!) donated by Pit Stop Pizza & Steaks!
Delaware County Parks & Recreation provided the funding for the plants and delivered the mulch. Taylor Memorial Arboretum donated native trees and shrubs again this year, and Delaware County Conservation District donated deer fencing, and gave us access to their Conservation Planting Trailer full of all of the tools we could need! Garden Influence and Redbud Native Plant Nursery provided invaluable expertise, and Friends of Glen Providence Park donors funded the fencing posts and other supplies for this project. Neighbors of the park allowed us to run a hose downhill from their house to water the plantings. We are grateful to all of these people for making the plantings possible!
The next time you are at the sledding hill, look for these native plants, and check out the fun in the photos below – just click on any for a closer look or to scroll through them.
Trees:
Chestnut oak, Quercus prinus – 2
Willow oak, Quercus phellos – 1
Yellow birch, Betula alleghaniensis – 1
Blackgum, Nyssa sylvatica – 1
Eastern Redbud, Cercis canadensis – 2
Pawpaw, Asimina triloba – 2
White Ash sapling, Fraxinus americana – 2
Tuliptree sapling, Liriodendron – 3
American Sycamore sapling, Platanus occidentalis- 4
Shrubs:
Bottlebrush buckeye, Aesculus parviflora – 3
Blackhaw viburnum, Viburnum prunifolium – 1
Silky Dogwood, Cornus amomum – 6
Flowering raspberry, Rubus odoratus – 2
Before & After:
Photos by Shannon Davidson, Marcia Tate, George Tate & Stephanie Gaboriault