RAIN DATE: 6-24-2018 Tiffany Jones!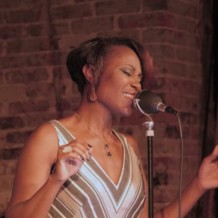 To kick off our free and family-friendly 2018 Arts in the Park, Friends of Glen Providence Park is delighted to present Tiffany Jones! Called a "rising star," Philadelphia's soul-jazz vocalist Tiffany Jones has "soul and sincerity behind her voice," with jazz inflections and a message of love, joy, hope and healing – all supported by a first-class band.
Arts in the Park
Saturday, June 23
6:00-7:30 pm – new time this year!
Glen Providence Park Stage, State Street, Media
Rain date: Sunday, June 24
*** RAIN DATE UPDATE: Due to Saturday's forecast of rain and thunderstorms throughout the day and into the evening, we will use our rain date of Sunday, June 24 at 6:00. ***
Bring a blanket or chair, and relax on the lawn by the historical stage for an evening concert! After the performance, head into Media for dinner and shopping, just 2 blocks away on State Street. As with all of our events, this performance is free, family-friendly, and open to the public.
Thank you:
If the weather is questionable, we will post on Facebook and on our website by noon Saturday whether we will use our Sunday rain date.
For logistics, and for information on our July, August, and September performances, please see our 2018 Arts in the Park announcement!