8-25-2018 Delco Symphony Brass Quintet!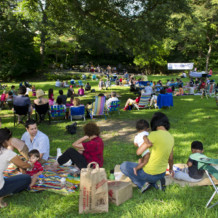 For the third performance in our free and family-friendly 2018 Arts in the Park, we are delighted to present the Delco Symphony Brass Quintet! The Delaware County Symphony is a community orchestra established in 1971, dedicated to providing outstanding musical experiences for residents of the Delaware County area, featuring both large and small ensembles. They'll play Jazz, Blues, Dixieland, popular show tunes, and even J.S. Bach!
Arts in the Park
Saturday, August 25
6:00-7:30 pm – new time this year!
Glen Providence Park Stage, State Street, Media
Rain date: Sunday, August 26
Bring a blanket or chair, and relax on the lawn by the historical stage for an evening concert! After the performance, head into Media for dinner and shopping, just 2 blocks away on State Street. As with all of our events, this performance is free, family-friendly, and open to the public.
Thank you:
If the weather is questionable, we will post on Facebook and on our website by noon Saturday whether we will use our Sunday rain date.
For logistics, and for information on our June, July, and September performances, please see our 2018 Arts in the Park announcement!