Concert Recap: Mutlu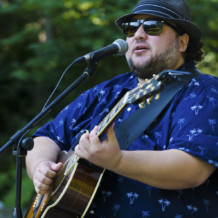 The Friends of Glen Providence Park welcomed over 225 audience members on July 28 for the second concert in their 2018 "Arts in the Park" season at "the Glen." With a clear sky overhead, freshly-mowed turf underfoot, and a setting sun illuminating the historic stage, it wasn't long before the hillside was sprinkled with folks slung in their folding chairs and dotted with family picnickers lounging on blankets.
Stephanie Gaboriault, President of the Friends group began the festivities with a warm welcome for the attendees and then called their attention to the new Friends of Glen Providence Park logo, gently featured on two stage-side banners.
Rich Hoffmann, a Friends Concert Committee member then took to the stage to introduce the featured act for the evening – the Philly based, internationally-travelled singer/songwriter Mutlu.
It's a rare opportunity to experience a single entertainer, with a single instrument, inhabit a venue as large as the Glen Providence Park hillside so effectively and completely. From stage front to the back tree line, the audience swayed, clapped, danced and sang along with his original tunes including his recent hit "Hypontize" and his masterful covers of Bill Withers' "Ain't No Sunshine" and the Ben E. King super standard "Stand By Me."
The original "Sikidim" enthralled with its Turkish lyrics and masterfully executed trans-world guitar interpretation, while "Board Games" and "Damage" poured Mutlu's soulful voice over his just-this-side-of rap staccato rhyme.
The 90 minutes of full-on entertainment closed with a standing round of applause – well-earned by this engaging and talented gentleman and enthusiastically delivered by the crowd.
♦
Many thanks to all who made this concert possible: Delaware County Parks & Recreation, a grant from the Pennsylvania Council on the Arts, Concert Series Sponsor Media Recreation Board, Concert Sponsor Sterling Pig Brewery, our volunteer Concert Committee, Marcia Tate for her artful decoration of the stage, the hundreds of people who attended, and of course Mutlu!
This summer's Arts in the Park was made possible by funding from Project Stream, a grant initiative of the Pennsylvania Council on the Arts that is regionally administered by the Greater Philadelphia Cultural Alliance.
Click on any photo for a closer look, or scroll through to see what it was like!
Photos by George Tate