Concert Recap: Tiffany Jones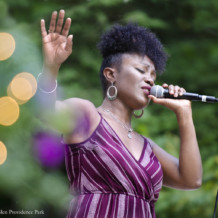 Opening her set with a scintillating, soulful interpretation of Woody Guthrie's most famous song "This Land is Your Land", Philly A-list entertainer Tiffany Jones captured her audience at Glen Providence Park from the get-go – providing a powerful kick-off to our 2018 Arts in the Park season on June 24.
Ms. Jones delivered her smooth yet sweetly intense brand of heartfelt "soul-jazz " fusion through a combination of original compositions and eclectic covers. The heartfelt lyrics of her self-penned "You Touched Me" and "Him" floated on the solid foundation provided by the band's jazz riff-infused melodies. Her ballad-style take on Lenny Kravitz's "It Ain't Over Till It's Over" was simply brilliant.
Tiffany very gracefully brought her show to a slightly advanced close as a rain shower approached Glen Providence Park, but audience members remained to greet, thank and complement her personally.
Having so sincerely interpreted and performed his 1940 masterpiece of social observation directly from a WPA-era stage platform, Woody would have been the first to stand for Sunday's audience ovation for Tiffany Jones.
♦
Many thanks to all who made this concert possible: Delaware County Parks & Recreation, a grant from the Pennsylvania Council on the Arts, Concert Series Sponsor Media Recreation Board, Concert Sponsor Shere-E-Punjab Indian Restaurant, our volunteer Concert Committee, Marcia Tate for her artful decoration of the stage, the hundreds of people who attended, and of course Tiffany Jones!
This summer's Arts in the Park was made possible by funding from Project Stream, a grant initiative of the Pennsylvania Council on the Arts that is regionally administered by the Greater Philadelphia Cultural Alliance.
Click on any photo for a closer look, or scroll through to see what it was like!
Photos by George Tate