Media Open Streets 2018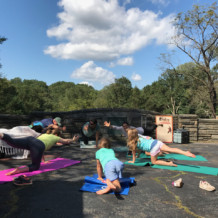 Saturday was the inaugural day for the Borough's newest event, Media Open Streets! After yet another rainy week at the end of an incredibly rainy summer, it was a gorgeous, clear morning, and families came out in numbers to ride and walk along the streets – which were closed to vehicle traffic – and to enjoy activities along the way! The route spanned from Jackson Street & Providence Road on one end to Glen Providence Park at the other.
At the Glen Providence entrance, we were lucky to have as neighbors: plein air painters with Media Arts Council, light bike repairs with the Bicycle Coalition of Greater Philadelphia, wool spinning with the Media Historical Society, and frisbee-throwing robots!
In the park were yoga with First United Methodist Church of Media, salsa and more yoga with Salsa in the Suburbs Dance Studio, and performances by the Media Theatre!
Thank you to Transition Town Media and other volunteers for all of their hard work organizing this event!
Here are a few photos from the event – click on any for a closer look!
Photos by author