6-1-2019 Academy of International Ballet!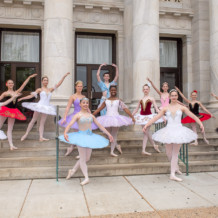 To kick off our free and family-friendly 2019 Arts in the Park, Friends of Glen Providence Park is delighted to present… ballet! The Academy of International Ballet teaches and performs elegant classical ballet in the finest traditions of the world-renowned Bolshoi Ballet Academy in Moscow. With studios in Media and Horsham, they bring beauty to ballet. In Glen Providence, they will present excerpts and variations from classical ballets and contemporary works!
Arts in the Park
Saturday, June 1
5:00-6:30 pm – new time this year!
Glen Providence Park Stage, State Street, Media
Rain date: Sunday, June 2*
Bring a blanket or chair, and relax on the lawn by the historical stage for an afternoon performance. After the ballet, head into Media for dinner and shopping, just two blocks away on State Street. As with all of our events, this performance is free and family-friendly.
Thank you:
*RAIN DATE: If the weather is questionable, we will post on Facebook and on our website by 1:00 Saturday whether we will use our Sunday rain date.
For logistics, and for information on our July, August, and September performances, please see our 2019 Arts in the Park announcement!