Conservation Crew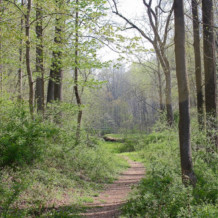 Join us Friday mornings in Glen Providence Park! We remove invasive shrubs and vines that strangle beneficial native plants and crowd the trails, and work on other projects to support plants and wildlife in the park. Enjoy conversation and soak in the natural beauty of the glen – while making a positive impact.
Conservation Crew
Friday mornings
(weather permitting)
9:30 – 11:30 am
Registration required:
Email us at FriendsoftheGlen [at] gmail [dot] com
Since 2013, we've removed over 375 bags of invasive plants – liberating native trees and shrubs that were strangled and weighted down by vines – while beautifying and keeping open the trails. Some of our other projects? We've painted trail blazes, measured trail distances for trail posts, carried in native trees for planting projects, cleared branches from fallen trees damming the stream, repeatedly cleared the pond intake from blockages, and removed smaller limbs from fallen trees to unblock trails until County Parks could get in with chainsaws.
Logistics:
Please take a quick read over our Invasive Plant Removal Guidelines
Wear work clothes – ideally long sleeves & pants – including appropriate sturdy footwear.
Please bring gloves and pruners.
We will provide bags and any additional tools.
Be prepared for hills and uneven terrain.
We send out an email to our Crew on Thursdays with that week's project and meeting location, with the next morning's forecast in mind. Whether you can join us once or weekly, email us at FriendsoftheGlen [at] gmail [dot] com!
We generally work when the temperature is between 35 and 80 degrees.
Coming soon:
We're usually too busy to snap photos, but we'll add a few here from some past work days!
Glen Providence Park is owned and managed by Delaware County, and we work with the permission of, and in consultation with, Delaware County Parks & Recreation and the Delaware County Conservation District, in addition to consulting other natural lands managers and resources.
We take a pragmatic approach and prioritize those invasive plants that both cause the most harm and are effective to remove. We do not do structural trail maintenance or use power tools.