7-13-2019 Arts in the Park: Birdie Busch!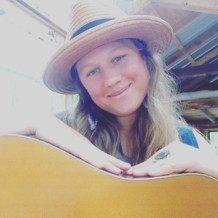 For the second performance in our free and family-friendly 2019 Arts in the Park, Friends of Glen Providence Park is delighted to present Melodic Songstress Birdie Busch! Her atmospheric folk, which often aches with strains of country-blues, jumps out with a rockabilly swagger and blushes with whimsical telling-you-a-secret lilt that's all her own.
Arts in the Park
Saturday, July 13
5:00-6:30 pm – new time this year!
Glen Providence Park Stage, 550 West State Street, Media
Rain date: Sunday, July 14*
Bring a blanket or chair, and relax on the lawn by the historical stage for a late afternoon concert. After the performance, stroll into Media for dinner and shopping, just two blocks away on State Street!
Excerpts from some of Birdie's reviews:
NPR: Philadelphia singer Birdie Busch is a local favorite. She's even got something of a fan club in the WXPN studios. Her blend of traditional and contemporary folk, delivered in her powerful alto, exudes emotion and uncanny wit. – for World Cafe Live
Nashville Scene: Emily "Birdie" Busch marries the folkie aesthetic with something altogether more rhythmic, felt and astringent. She displays the born songwriter's structural knack and flair for the unobtrusive hook. —Edd Hurt
iTunes: Philadelphia-based singer/songwriter Birdie Busch has one of those voices that draws you in on the first phrase and breathes you out at the end of the record.
Thank you:
*RAIN DATE: If the weather is questionable, we will post on Facebook and on our website by 1:00 Saturday whether we will use our Sunday rain date.
For more logistics, and for information on our June, August, and September performances, please see our 2019 Arts in the Park announcement!