Recap: Academy of International Ballet!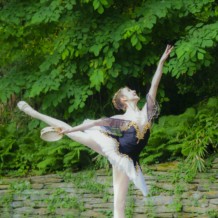 On June 1st – an exquisite spring evening – the audience with their blankets, chairs and the occasional basket of picnic treats settled across the hillside as the historic 1937 stage played host to the Academy of International Ballet. This talented troupe of young dance students performed a series of vignettes in a broad range of dance styles from hip-hop bounce and modern interpretive movement to the willow-like elegance of classical ballet.
The early evening light glinted and sparkled from sequins and silk as the performers glided, pranced, rolled, spun, and quite literally flew, against the backdrop of weathered stone and spring foliage. The most dramatic leaps and twirls generated spontaneous bursts of applause from the appreciative audience and a few of the very young among them, in rapt inspiration, did their best to emulate the fluid choreography on offer.
Additionally, an artist-member of the Media Arts Council used this visually dynamic opportunity to create a plein-air interpretation of this first in the four-event 2019 Arts in the Park series.
The captivatingly enthusiastic and dedicated performers and their instructors at the Academy of International Ballet have kicked (and twirled and leapt) the Friend's eighth year of outdoor entertainment events into high gear.
♦
Editor's note: Check out the delightful photos by George Tate below, and you can also see an enchanting 1-minute video from the performance posted on Facebook by audience member Carol Tendall Carmon!
Many thanks to all who made this concert possible: Delaware County Parks & Recreation; a grant from the Pennsylvania Council on the Arts; Concert Series Sponsors Media Recreation Board, West End Flats, and Media Open Streets; Concert Sponsor Seven Stones Gallery; our volunteer Concert Committee; Marcia Tate for her artful decoration of the stage; the hundreds of people who attended; and of course the Academy of International Ballet!
This summer's Arts in the Park was made possible by funding from Project Stream, a grant initiative of the Pennsylvania Council on the Arts that is regionally administered by the Greater Philadelphia Cultural Alliance.
Click on any photo for a closer look, or scroll through to see what it was like!