8-17-2019 Arts in the Park: The Bickel Brothers Band!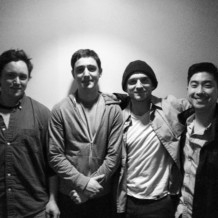 For the third performance in our free and family-friendly 2019 Arts in the Park, Friends of Glen Providence Park is delighted to present Funky Soul Music with The Bickel Brothers Band! While the band's roots remain in Funk, Blues, Soul, Jazz, and Groove, it does not conform to any specific genre, remaining consistently fresh and exciting.
Arts in the Park
Saturday, August 17
5:00-6:30 pm – new time this year!
Glen Providence Park Stage, 550 West State Street, Media
Rain date: Sunday, August 18*
Bring a blanket or chair, and relax on the lawn by the historical stage for a late afternoon concert. After the performance, stroll into Media for dinner and shopping, just two blocks away on State Street!
More on the Bickel Brothers: "A truly versatile group of musicians. In short, the Bickel Brothers Band boasts a unique blend of musical influences which all come together into a sonic jambalaya every time they hit the stage." Check out this video of their performance at Ardmore Music Hall last fall!
Thank you:
Concert Sponsor Sterling Pig Brewery, the exciting restaurant located on the border of Glen Providence Park, just one block from the main entrance!
Concert Series Sponsor Media Recreation Board does so much for Media – including summer camp for kids, movies in Barrall Field, the Annual July 4th Celebration, and the Great Media Garage Sale Days.
Concert Series Sponsor West End Flats is the bold, upscale new apartment building, one block from the park's main entrance.
Concert Series Sponsor Media Open Streets had an exciting inaugural event in 2018, and will hold its second annual event on Saturday, September 28.
Delaware County Parks & Recreation has cared for Glen Providence Park since its creation on Halloween, 1935!
This summer's Arts in the Park was made possible by funding from Project Stream, a grant initiative of the Pennsylvania Council on the Arts that is regionally administered by the Greater Philadelphia Cultural Alliance.
*RAIN DATE: If the weather is questionable, we will post on Facebook and on our website by 1:00 Saturday whether we will use our Sunday rain date.
For more logistics, and for information on our June, July, and September performances, please see our 2019 Arts in the Park announcement!