9-7-2019 Arts in the Park: Bill Ricchini of Summer Fiction!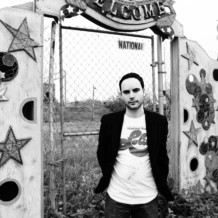 For the final performance in our free and family-friendly 2019 Arts in the Park, Friends of Glen Providence Park is proud to present heartwarming summer pop with Bill Ricchini of Summer Fiction! His music is described as "Charmingly catchy heartache meets sun-kissed disenchantment" by the Philadelphia Inquirer, "Heartwarming summer pop" by NPR, and "Lovely, bookish songs" by Vogue. We couldn't agree more.
Arts in the Park
Saturday, September 7
5:00-6:30 pm – new time this year!
Glen Providence Park Stage, 550 West State Street, Media
Rain date: Sunday, September 8*
Bring a blanket or chair, and relax on the lawn by the historical stage for a late afternoon concert. After the performance, stroll into Media for dinner and shopping, just two blocks away on State Street!
More praise for Summer Fiction:
SPIN: Brian Wilson melodic levity meets Johnny Marr guitar jangle…effortlessly engaging.
New York Magazine: Brilliant 60′s-esque AM pop.
WNYC: Perfect pop melodies and arrangements that may remind you of Pet Sounds-era Beach Boys.
Magnet: Wistfully demur on the surface, delving into everyday matters of the heart with a icy pair of forceps, leaving all manner of collateral damage in its wake.
Thank you:
*RAIN DATE: If the weather is questionable, we will post on Facebook and on our website by 1:00 Saturday whether we will use our Sunday rain date.
For more logistics, and for information on our June, July, and August performances, please see our 2019 Arts in the Park announcement!