Concert Recap: Birdie Busch!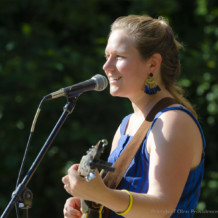 Under a cloudless evening sky on July 13, with a zero percent chance of precipitation, an audience-in-the-making filtered down State Street into the freshly-mown Glen anticipating a 100 percent chance of excellent live musical entertainment. And self-described "melodic songstress" Birdie Busch delivered – well beyond expectation.
While folks on blankets, folding chairs, and a few inflatable "couches" packed the lawn as usual, sit-down style picnic feasts — some simple, some deliciously elaborate — are making more frequent appearances on the tables placed throughout the audience.
Birdie opened her performance with the exquisite ballad Secret Hour and from that first moment, she held the crowd in thrall to her introspective lyrics and soft, clear voice.
Her performance-burnished Kay acoustic/electric guitar laid a vintage filter over her all-original set including the toe-tappers Go Go Gadget Heart and Keys to The Car and heartfelt nostalgia of Heel to Toe and Sing Song Girl.
Ms. Busch spoke directly to the audience frequently throughout her performance, detailing the life experiences that inspired her pieces and, in turn, commenting on the look and feel of the Park itself. Before closing her set with the tender reminiscence Gigi, Birdie commented, "If I could walk to a setting like this in my neighborhood and get free live music, I would be thrilled! Media, you're really lucky to have this".
Agreed Birdie, we certainly are.
♦
Editor's note: Check out the delightful photos by George Tate below, and you can also see a wonderful 1-minute video from the performance posted on Facebook by audience member Carol Tendall Carmon!
Many thanks to all who made this concert possible: Delaware County Parks & Recreation; a grant from the Pennsylvania Council on the Arts; Concert Series Sponsors Media Recreation Board, West End Flats, and Media Open Streets; Concert Sponsor Seven Stones Gallery; our volunteer Concert Committee; Marcia Tate for her artful decoration of the stage; the hundreds of people who attended; and of course Birdie Busch!
This summer's Arts in the Park was made possible by funding from Project Stream, a grant initiative of the Pennsylvania Council on the Arts that is regionally administered by the Greater Philadelphia Cultural Alliance.
Click on any photo for a closer look, or scroll through to see what it was like!