Concert Recap: The Bickel Brothers Band!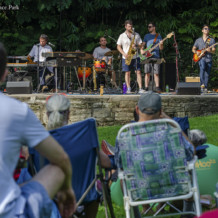 With our 2020 Arts in the Park postponed to 2021 due to COVID, we're wistfully looking back at 2019… The Bickel Brothers Band performed on August 17:
In addition to their loyal local fans and regional followers, the Bickel Brothers Band brought their performing "A game" to the historical Glen Providence stage on a prototypical Media midsummer Saturday evening.
Friends of Glen Providence Park concert committee member Paul Schlenker introduced the band, and, from their first notes, it was a single solid set of their signature mashup of Blues, Funk, and soulful Jazz.
Among their offerings of fabulous original tunes and incredibly tight covers was their standout interpretation of the Stevie Wonder smash hit Living For The City. With pure musical mastery, the five "Brothers" took this tune into the stratosphere and then guided it back to earth for a finale that brought the crowd to its feet. Had he been there, Mr. Wonder would have been cheering along with them.
♦
Many thanks to all who made this concert possible: Delaware County Parks & Recreation; a grant from the Pennsylvania Council on the Arts; Concert Series Sponsors Media Recreation Board, West End Flats, and Media Open Streets; Concert Sponsor Sterling Pig Brewery; our volunteer Concert Committee; Marcia Tate for her artful decoration of the stage; the hundreds of people who attended; and of course the Bickel Brothers Band!
Our 2019 Arts in the Park was made possible by funding from Project Stream, a grant initiative of the Pennsylvania Council on the Arts that is regionally administered by the Greater Philadelphia Cultural Alliance.
Click on any photo for a closer look, or scroll through to see what it was like! Photos by George Tate.