Summer Concerts, Past & Future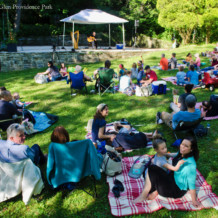 We postponed our 2020 Arts in the Park until 2021 due to COVID, so we're reminiscing about past summers, and looking hopefully towards next summer. We had an incredible lineup of performers this year, who have agreed to perform in 2021:
Classical Guitar with the Kossler Duo
Reggae & Jazz with Paul Downie & Friends
"Soul Pop" with Danie Ocean
African Drumming & Dance with Malidelphia
Our performers and sponsors have been wonderful to work with, and we will be posting more about them on Facebook over the next month.
You can look back at past years' concerts, theatre, storytelling, and ballet(!) in a 5-minute compilation video, in our Facebook "Arts in the Park" album, and on our website – we'll be filling in more past performances.
Thank you to our Arts in the Park Sponsors Media Recreation Board and West End Flats; Performance Sponsors Seven Stones Gallery, Sterling Pig Brewery, Shere-e-Punjab, and Diego's Cantina; to Delaware County Parks & Recreation; and to Project Stream, a grant initiative of the Pennsylvania Council on the Arts that is regionally administered by the Greater Philadelphia Cultural Alliance.
Looking forward to Summer 2021's Arts in the Park…