Glen Providence Park's 85th Halloween Birthday!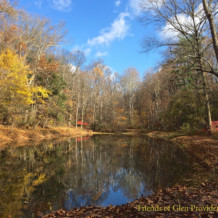 George and Eleanor Butler donated the land for Glen Providence Park in the summer of 1935, and work started on October 31, 1935 – making Halloween Glen Providence Park's birthday! Coincidentally(?), some spooky-strange tales from local folklore take place in and around the park, and it has hosted some spook-tacular Halloween events.
It was the local ghost and witch stories recounted in the early 1900's by Dr. Anna E. Broomall that led us to discover the rich pre-park history of Glen Providence, from the time it was called Scroggie Valley! Dr. Broomall was the daughter of Judge John M. Broomall, who had owned the land that is now Glen Providence Park from about 1864 until his death in 1894.
"Back in the early days of this region before civilization had turned too strong a light on things occult, the neighborhood was peopled with its full quota of goblins and ghosts and witches…" You can read the rest of Dr. Broomall's telling of the 1700's story of newlywed ghosts haunting the park, and the 1800's story of three witch sisters tormenting the local miller, and of their Witches' Ride in the park. Both stories are annotated with our historical research and maps.
In the 1980's, Delaware County Parks & Recreation held frightening Halloween Hauntings in Glen Providence, with Freddy Kruger, a chain saw man, Dracula, and even water creatures in the pond! My favorite newspaper description stated, "After completing the eerie walk, visitors will receive a cup of cider and the director's assurance that no one will follow them home."
Those hauntings were apparently scary enough to help inspire Penncrest grad Gary Dauberman, the horror screenwriter of the 2017 adaptation of Stephen King's novel "It"! He spoke about it in interviews, telling the Delaware County Daily Times, "I remember going on haunted walks at Glen Providence Park in Media every Halloween, which helped to foster my love of horror at a very young age. So did driving by the Heilbron Mansion on the school bus every day…"
To honor the 80th Anniversary of Glen Providence Park in 2015, we held a Halloween Birthday celebration at the stage, with Hedgerow Theatre enacting Edgar Allen Poe's The Raven, and the park's Ghost and Witch Stories! It was an enchanting evening, with the audience dressed in costumes, ready to head off for trick-or-treating immediately following the performance.
Halloween events are just some of the park's wonderful array of activities and events since it opened in 1935. That tradition of community events, and the elegance of the park's design and structures built by the Works Progress Administration, are why Glen Providence Park was determined eligible for the National Register of Historic Places! What a marvelous history it has had…
Happy 85th Birthday, Glen Providence Park!
And, Happy Halloween!
Click on the links in the article above for photos and much more information!