Native Tree Plantings at Kirk Lane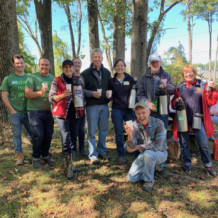 We were saddened to cancel our annual native tree planting for National Public Lands Day this fall due to COVID-19, as it is one of our favorite events! However, in 2019 and 2020, volunteers have planted 32 native trees and shrubs – and dozens of woodland plants – by the Kirk Lane entrance to Glen Providence Park.
In October 2019, we completed Phase Three of our Wildlife Habitat Plantings at the entrance and along the Scouts Loop trail. In both April 2019 and November 2020, our PA State Representative Chris Quinn planted a tree for Arbor Day. And in July 2020, volunteers planted three hybrid American Chestnut trees. All of these native plantings will benefit future generations of humans and wildlife!
National Public Lands Day
Saturday, October 5, 2019
Last Fall, 40 lovely adults, teens, and kids volunteered a combined 107 hours digging, planting, mulching, installing deer fencing, raking, and watering, all to improve wildlife habitat in Glen Providence!
This was Phase Three of our Kirk Lane project, which we started on National Public Lands Days in 2015 and 2016. We expanded on previous plantings with an additional 27 native trees and shrubs, and 50 native woodland plants – the complete list is below. The plants benefit wildlife by providing seeds, nuts, fruits, and nectar for mammals, birds, butterflies, and other pollinators, in addition to helping to slow down and absorb surface storm water runoff.
This project demonstrated the wonderful range of community groups and volunteers who come together to help in Glen Providence Park:
Delaware County Parks & Recreation provided the funding for the plants and delivered the mulch. Delaware County Conservation District delivered their Conservation Planting Trailer full of all of the tools we could need! Garden Influence and Redbud Native Plant Nursery provided invaluable expertise, Taylor Memorial Arboretum and Garden Influence donated additional woodland plants, and Friends of Glen Providence Park donors funded the deer fencing, posts, and other supplies for this project.
Additional groups of volunteers from Media Rotary and Springton Lake Middle School provided invaluable manpower, and neighbors of the park allowed us to run a hose from their house to water the plantings. Cafe Isla donated coffee to fuel our volunteers, and our PA State Rep. Chris Quinn both helped with the planting, and paid for and picked up pizza for lunch. We are grateful to all of these people for making the plantings possible!
❖
Plantings by PA State Representative Chris Quinn
Arbor Day 2019 & November 2020
Chris Quinn has planted two other native trees in the park by Kirk Lane – a Willow Oak for Arbor Day in 2019, and a magnificent "Green Gable" Black Tupelo today! He purchased both trees and planted them with us. We are grateful for his generosity, and that he chose Glen Providence Park for Arbor Day plantings!
❖
Trees from the American Chestnut Foundation
July 2020
Ron Brzowski and Pat Burke planted three hybrid American Chestnut saplings near two hybrids we planted with Ron in 2016. We were able to re-use deer fencing from some of our previous plantings. The trees were donated by Tyler Arboretum's American Chestnut Nursery via The American Chestnut Foundation, and they were grown at the Mt. Cuba Center in Hockessin, Delaware. It's all part of a decades-long effort to restore the majestic American Chestnuts that once dominated our eastern woods, but were decimated by a blight in the early 1900's.
To learn more, visit the American Chestnut Foundation website or read about the chestnut's local history and the two surviving pure American Chestnuts we found in Glen Providence. Thank you to Ron and Pat for planting and tending to the Chestnut trees in Glen Providence!
❖
Here's our native plant list from National Public Lands Day in October 2019. And check out our photos from our planting days!
Trees:
Eastern Red Cedar, Juniperus virginiana – 1
Kentucky Coffeetree, Gymnocladus dioicus – 1
Ohio Buckeye, Aesculus glabra – 1
Catalpa, Catalpa sp. – 1
Silverbell, Halesia – 1
Southern Red Oak, Quercus falcata – 1
Yellow Birch, Betula alleghaniensis – 1
Quaking Aspen, Populus tremuloides – 1
Blackjack Oak, Quercus marilandica – 1
Post Oak, Quercus stellata – 1
Atlantic Cedar, Cedrus atlantica – 1
Sweetbay Magnolia, Magnolia virginiana – 1
Persimmon, Diospyros sp. – 1
American Holly, Ilex opaca – 1
Shrubs:
Red Chokeberry, Aronia arbutifolia – 2
Fothergilla, Fothergilla sp. – 2
Compact Inkberry, Ilex glabra 'Compacta' – 2
Winterberry, Ilex verticillata – 3
Red Twig & Silky Dogwood, Cornus sp. – 4
Woodland Plants:
Marginal Wood Ferns, Dryopteris marginalis – 3
Lady Ferns, Athyrium filix-femina – 6
Cinnamon Ferns, Osmundastrum cinnamomeum – 3
Goldie's Wood Fern, Dryopteris goldieana – 6
Blue Wood Aster, Symphyotrichum cordifolium – 6
Blue Mistflower, Conoclinium coelestinum – 6
Blue Hyssop – 6
Common Milkweed, Asclepias syriaca – 14