Broomall's Dam in the Media Borough Open Space Survey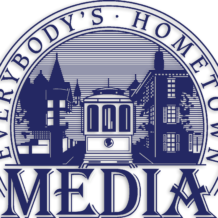 Media Borough is again seeking public input about the Broomall's Dam/Third Street Project. If built, a new dam would have a devastating impact to the northern end of Glen Providence Park.
Recognizing the threat of this project to its county-owned park, Delaware County Council has declined to sign a PennDOT environmental document stating that the project would have "no adverse impact" to Glen Providence Park. In addition, neither the County, the Borough, nor Broomall's Lake Country Club has agreed to sign as owner of the dam to get a PA DEP permit to build it. As a result, the project is on hold, and its outcome is uncertain.
Media Borough's Open Space, Parks & Recreation Advisory Committee will be launching a public survey online, seeking input on priorities, facilities, programs, and budget allocation.
Two of the questions will be about Broomall's Dam, which was partially removed by the PA DEP in 2017:
Whether there should be a new dam — or a bridge over a restored stream — at Third Street
What type of roadway should connect Media and Upper Providence
The questions are labeled under "Third Street Dam" in Section Three of the survey, "Programs & Facilities. " The link to the survey will be going live the week of December 21 and will remain active through February: http://metroquestsurvey.com/xe5n5d The survey itself is space-restricted, and gives minimal information. As anyone who has been following this project knows, the legal case and underlying issues are complex.
Some important points:
A new dam is not necessary for a roadway. A bridge could instead reconnect Media and Upper Providence, and would be drastically less damaging to Glen Providence Park than a dam. We believe there should be community input into whether that is a one-way, two-way, or pedestrian and bike roadway.
While a new dam would again retain water, it would not fully restore Broomall's Lake. The lake had filled with sediment since it was formed by Broomall's Dam in 1883, diminishing from a depth of 30-40 feet to an estimated 8 feet. Expensive dredging would be needed to restore the lake. The past president of Broomall's Lake Country Club stated at a public meeting that the Club would sue Media Borough to pay for that dredging after the dam is built.
The new dam would, however, destroy the northern end of Glen Providence Park. According to a site visit with the engineer who designed the dam, earthfill to create the new, larger dam would bury the northern end of the park. The new dam would extend over 70′ farther downstream than the previous dam, filling in wetlands and natural springs, and encasing the waterfall and stream in concrete, including – and past – the masonry footer from one of the park's original footbridges. The construction area would be larger than an acre, with more than 70 mature trees removed. For dam safety reasons, the massive new dam slope, and a 10' perimeter past it, could not be replanted with anything but closely mowed grass. What is currently a serene, wooded entrance to the park would look like a highway exit berm.
The new dam would be classified as a high hazard dam. Under legal definitions, this classification is due to the potential loss of life and property at the homes downstream of the park, in the event of a dam breach. This does not even take into consideration the danger to anyone using the park. With "100 year" weather events happening with increased frequency, we take this threat seriously.
Friends of Glen Providence Park organized in July 2011 in response to the threat to Glen Providence from the proposed dam, and we have continued to advocate to minimize the project's damage to the park's wetlands, wildlife, and plants. You can see photos of the section of the park that would be destroyed on our website in our 1.1 Acre Project.
To minimize destruction to the park, Friends of Glen Providence Park continues to support dam removal, stream restoration, and a local discussion of an environmentally-sensitive bridge between Media Borough and Upper Providence.
For more information, explore the Third Street Project overview and the many Dam/Bridge articles on our website.