Support the Glen Providence Mural!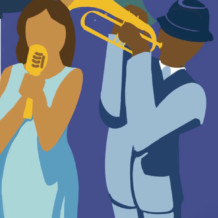 Be a part of more Arts in the Park! Friends of Glen Providence Park and Media Arts Council are delighted to announce a new mural for the main entrance to Glen Providence Park in Media, PA. The mural will be in six panels, on the cemented windows and doors of the overlook at the State Street entrance. The four windows will depict the four seasons in the glen with native woodland plants, while the two doors will depict live music… in view of concerts this summer at the park's WPA stage!

Help us reach our goal of $2,700 to cover the cost of this art installation that will brighten and transform the main entrance – donate to our Glen Providence Mural GoFundMe!
Thank you for your support!

The mural designer is Laurie Kirkpatrick Doran.  She will paint the mural with Shannan McConnell, whose grandfather helped build the main entrance in 1935 as part of the Works Progress Administration (WPA)! They are both Media Arts Council Gallery Artists. The funds will cover the cost of the materials and payments to the artists for design and implementation. 

The mural is a joint project of Friends of Glen Providence Park and Media Arts Council. It's an exciting year for the project – it's the Friends' 10th anniversary and MAC's 15th anniversary! The mural will be painted in June, in time for the Friends' first Arts in the Park concert this summer on June 26. 
We are grateful to Delaware County Parks and Recreation for making this project possible, including power washing the cement to prepare it for painting.
Paintings by Laurie Kirkpatrick Doran. Those shown are a portion of a musician panel for one of the two doors, and the Spring panel for one of the four windows.