2021 Arts in the Park!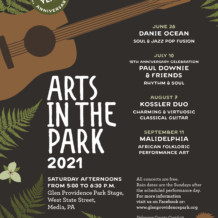 Announcing… Friends of Glen Providence Park's 2021 Arts in the Park! We have another great mix for our ninth year of performances, with Soul & Jazz Pop Fusion; Rhythm & Soul; Charming & Virtuosic Classical Guitar; and African Folkloric Performance Art! We are delighted to hold these concerts after they were postponed last summer due to Covid.
We will be celebrating the 10th anniversary of Friends of Glen Providence Park at our July concert!
Enjoy an afternoon performance at the historical concert stage, then walk two blocks into town for dinner and shopping on State Street. Check out our full poster below…
Mark your calendars!
Soul & Jazz Pop Fusion with Danie Ocean
Saturday, June 26
Our 10th Anniversary Celebration!
Rhythm & Soul with Paul Downie & Friends
Saturday, July 10
Charming & Virtuosic Classical Guitar with the Kossler Duo
Saturday, August 7
African Folkloric Performance Art with Malidelphia
Saturday, September 11
At the Glen Providence Park stage
Main entrance, 550 W. State St., Media, PA
Saturdays: 5:00-6:30pm
with Sunday rain dates
Thank you:
This summer's Arts in the Park was made possible by funding from Program Stream, a grant initiative of the Pennsylvania Council on the Arts that is regionally administered by the Greater Philadelphia Cultural Alliance.
Thank you to our Summer Series Sponsors Media Recreation Board and West End Flats; Performance Sponsors Sterling Pig Brewery, Seven Stones Gallery, and Shere-e-Punjab; and to Delaware County Parks & Recreation, without whose support these concerts would not be possible.
COVID Logistics:
Delaware County Covid-19 protocols will be followed. As of June 23, their Summer Festival website indicates: "Masks are not required for fully vaccinated individuals. Unvaccinated individuals should continue to wear masks indoors and while entering, exiting, and walking around the amphitheater." [updated June 23]
General Logistics:
Free and family-friendly!
Performances are at the Glen Providence Park Stage, downhill from the main entrance on State Street in Media.
Rain dates are the Sunday after each scheduled performance. If the rain date is used, the decision will be posted by 2:00pm Saturday on our website and Facebook. Updated to 2:00 as of our July concert.
Seating is on the lawn – bring your blanket or chair!
There is a parking lot at the State Street entrance and along State Street and West Street.
We encourage you to walk or take public transportation: the main entrance is just 2 blocks from the end of the Media trolley line, or less than a .6 mile walk from the Media train station.
More details on each performance coming soon!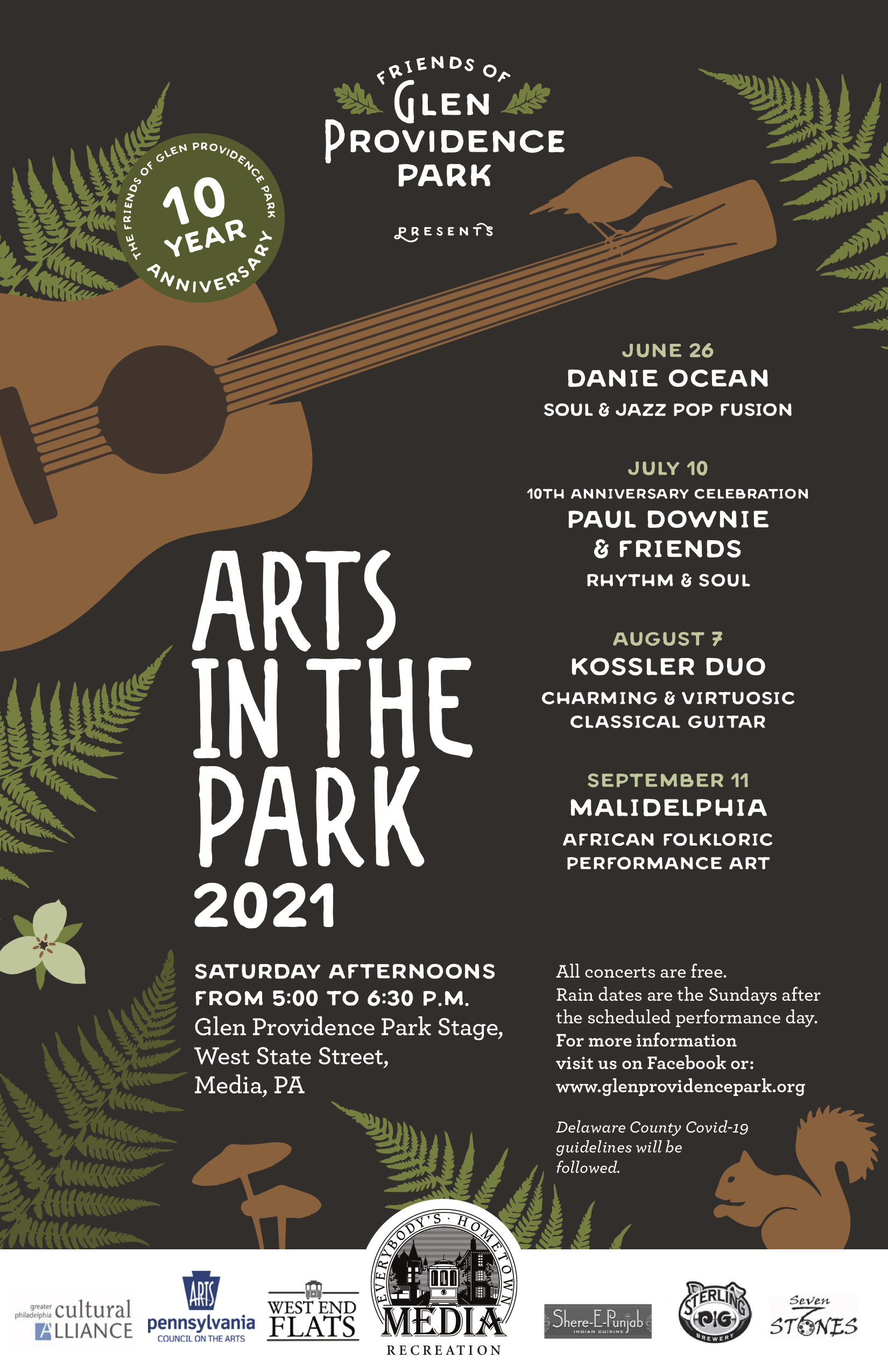 Thank you to Ten Eleven Design for the beautiful poster design!