Concert Recap: Danie Ocean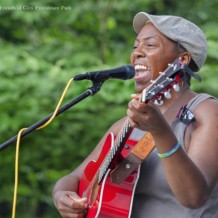 Glen Providence Park's stature as a neighborhood treasure was never more apparent than in the year 2020. The park provided serenity, solace, and space to an entire community precisely when access to quiet open space was at a premium in our urban setting.
The normally active historic stage went quiet for the entire 2020 performance schedule cycle, the first interruption in the Friend's eight consecutive years of providing the free summer concerts that have consistently grown in popularity and attendance.
Following 2021 guidelines for renewed social activity, the Friends of Glen Providence Park began our ninth concert season – and our tenth year as an organization – on Saturday, June 26 with a return to the concert stage featuring the soulful Danie Ocean and her band.
Danie on either keyboard or guitar, accompanied by her four-piece band, serenaded the audience spread across the concert stage lawn with original jazz-pop fusion originals like Mirrors and In Paris and a just fabulous cover of Uptown Funk.
Danie Ocean's melodic stylings were the perfect "welcome back" we had all been hoping for throughout the previous year.
♦
You can see Danie perform her anthem, Not Sorry on YouTube (also linked below) thanks to volunteer Carol Carmon!
Many thanks to all who made this concert possible: Delaware County Parks & Recreation; a grant from the Pennsylvania Council on the Arts; Concert Series Sponsors Media Recreation Board and West End Flats; Concert Sponsor Sterling Pig Brewery; our volunteer Concert Committee; Marcia Tate for her artful decoration of the stage; the more than 250 people who attended; and of course the Danie Ocean Band!
Our 2021 Arts in the Park was made possible by funding from Program Stream, a grant initiative of the Pennsylvania Council on the Arts that is regionally administered by the Greater Philadelphia Cultural Alliance.
Click on any photo for a closer look! Photos by George Tate.
Video by Carol Carmon. Panorama by Stephanie Gaboriault.