Concert Recap: Kossler Duo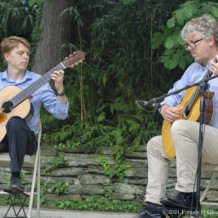 The acoustic guitar and the outdoors were made for each other. As if to prove that point, on Saturday, August 7, brothers Adam and John Kossler – along with perfect conditions at the concert stage in Glen Providence Park –conspired to deliver a delightful evening of sweet strings on a beautiful summer evening.
Brothers Adam and John Kossler have established themselves individually as classical guitar soloists, chamber musicians and dynamic partners when performing together as the Kossler Duo, as they did this evening on the park's 1930's-era historic stage.
Adam and John dipped into their well of symphonic stylings transcribed for the guitar and showed how precision often begets beauty.
In his introduction to their arrangement of Danse Macabre, no one in the audience saw coming Adam's suggestion that they may have heard a version of this same number in a bugs Bunny cartoon!
In 2019 the Kossler Duo released their first album titled Danse Macabre, a collection of their own new transcriptions for guitar duo. The recording debuted at #2 on Billboard's "Traditional Classical" chart, and #7 on Billboard's "Classical Albums" chart.
♦
You can see the Kossler Duo perform on YouTube (also linked below) thanks to volunteer Carol Carmon!
Many thanks to all who made this concert possible: Delaware County Parks & Recreation; a grant from the Pennsylvania Council on the Arts; Concert Series Sponsors Media Recreation Board and West End Flats; Concert Sponsor Shere-E-Punjab Indian Restaurant; our volunteer Concert Committee; Marcia Tate for her artful decoration of the stage; the almost 130 people who attended; and of course Adam and John Kossler!
Our 2021 Arts in the Park was made possible by funding from Program Stream, a grant initiative of the Pennsylvania Council on the Arts that is regionally administered by the Greater Philadelphia Cultural Alliance.
Click on any photo for a closer look! Photos by George Tate.
Video by Carol Carmon. Panorama by Stephanie Gaboriault.