Concert Recap: Malidelphia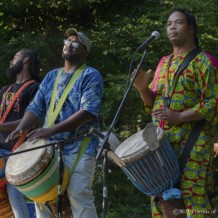 On an absolutely exquisite late summer's evening on Saturday, September 11, you may have heard the heartbeat of Mali, West Africa resounding throughout Glen Providence Park, courtesy of the eight member drum, percussion, and vocals troupe Malidelphia.
Should one be curious as to the origin of the Afro-Pop genre, this ensemble of drummers, percussionists and singers introduced the concert audience to the traditional sound – and feel! – of that West African style. Drums always lead the way, followed by the chanted colloquial vocals. Occasionally, woven through this thrumming beat was a warbling thread of notes from a treble-boosted electric guitar.
The band front man and lead vocalist Ira Bond coached the audience on some call and response participation, but more than a few concertgoers required no coaching to jump up and dance.
♦
You can see Malidelphia perform on YouTube (also linked below) thanks to volunteer Carol Carmon!
Many thanks to all who made this concert possible: Delaware County Parks & Recreation; a grant from the Pennsylvania Council on the Arts; Concert Series Sponsors Media Recreation Board and West End Flats; Concert Sponsor Sterling Pig Brewery; our volunteer Concert Committee; Marcia Tate for her artful decoration of the stage; the almost 200 people who attended; and of course Malidelphia!
Our 2021 Arts in the Park was made possible by funding from Program Stream, a grant initiative of the Pennsylvania Council on the Arts that is regionally administered by the Greater Philadelphia Cultural Alliance.
Click on any photo for a closer look! Photos by George Tate.
Video by Carol Carmon. Panorama by Stephanie Gaboriault.