Concert Recap: Paul Downie & Friends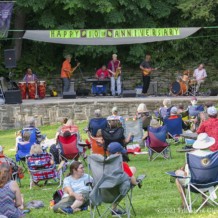 Local drummer and percussionist Paul Downie brought his six-piece band of "Rhythm & Soul" rockers to light up the Glen Providence concert stage and help the Friends of Glen Providence Park celebrate their 10-year anniversary at our concert on Saturday, July 10.
Preceding the music, the Friends Board of Directors took center stage to present FoGPP President Stephanie Gaboriault with a commemorative book featuring photos that highlighted the many programs and events sponsored by the organization in its first decade of service to the Park and the community. Marc Manfre, Director Delaware County Parks & Recreation spoke to the Friend's mission and its effectiveness in delivering area-wide environmental and cultural benefits and inspiration to other county park volunteer groups. Media Mayor Bob McMahon presented a proclamation to Ms. Gaboriault in recognition of her influence in founding the Friends of Glen Providence Park and her tireless efforts in support of the organization.
Performing beneath the beautiful hand crafted HAPPY 10TH ANNIVERSARY banner strung above the stage front, Paul Downey & Friends (now called Big Fire) covered songs by the Neville Brothers, Dr. John, and Bob Marley. The band also applied a touch of island spice to jazz favorites by Miles Davis and Sonny Rollins, in addition to performing some original compositions.
During the show, the Friends handed out 10th Anniversary cupcake treats to the attendees, the audience soaked up the rich atmosphere of the concert in the Glen… and the band played on.
♦
For more about the Friends 10th Anniversary and photos from our celebration, click here. You can see Paul Downie & Friends perform Chariot on YouTube (also linked below) thanks to volunteer Carol Carmon!
Many thanks to all who made this concert possible: Delaware County Parks & Recreation; a grant from the Pennsylvania Council on the Arts; Concert Series Sponsors Media Recreation Board and West End Flats; Concert Sponsor Seven Stones Gallery; our volunteer Concert Committee; Marcia Tate for her artful decoration of the stage; the more than 300 people who attended; and of course the Paul Downie & Friends, now called Big Fire!
Our 2021 Arts in the Park was made possible by funding from Program Stream, a grant initiative of the Pennsylvania Council on the Arts that is regionally administered by the Greater Philadelphia Cultural Alliance.
Click on any photo for a closer look! Photos by George Tate.
Video by Carol Carmon. Panorama by Stephanie Gaboriault.