Special Meeting full of FrOGs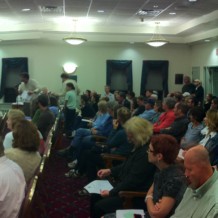 Congratulations on a spectacular organizing effort that culminated in FrOG's powerful showing at Media Borough's Special Hearing on the Third Street Bridge and Dam Project last night.
An estimated 100 citizens packed Council Chambers and sent a clear message to our elected officials that there is solid popular support for FrOG's positions on the Third Street Project.  It began with Stephanie delivering a positive vision of FrOG's holistic commitment to improving Glen Providence park, gathered energy with Holly's dramatic delivery of 836 petition signatures to the Council (526 from Media Borough and 310 from surrounding communities), went deep with Shannon's presentation on the the need to examine alternatives to the current dam design, sparkled green with Robin's eloquent explanation of and vision for a pedestrian/bicycle greenway, and changed the political paradigm when approximately two dozen residents came up to microphone and spoke in favor of FrOG's principles and positions.  Only a handful of citizens spoke in favor of the option for a two-lane automobile road.
On a practical level, we should be encouraged that Borough Council members 
expressed unanimous support for our request to establish a Citizen Advisory Committee on the Third Street Project – with representation from FrOG;  
agreed to research and consider conducting an independent, professional peer review of the current engineering design; and
agreed to consider the option of creating a pedestrian/bicycle greenway on the Third Street Bridge, in consultation with their legal counsel (naturally).
Of course, we understand that we're still in the first inning of a nine inning game. FrOG's Third Street Committee will be following up on all of these matters – and others – over the coming months.  Shannon Davidson and Terry Rumsey are Co-Chairing FrOG's Third Street Committe, with Robin Lasersohn participating as a key strategist, and we invite all of you to participate in this advocacy committee.
The next meeting of FrOG's Third Street Committee will be held on Monday, November 7, 2011 at the Media Fellowship House @ 7:00 pm.  SAVE THE DATE AND TIME!
Enjoy this coming fall weekend, you all deserve it!
One great way to have fun and frolic with FrOGs is to participate in our second clean-up tomorrow (Saturday, 10-15-11) We will meet at the entrance at 3rd & West Streets at 9:00 AM and play until 11:00 AM. Help us clean up trails, work on two projects, and learn a little about the park's history and nature!