November Wildlife Sightings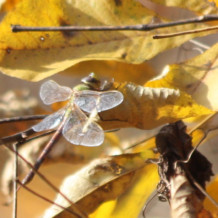 It was a beautiful month in Glen Providence Park, with fall foliage that just kept going!  There was a definite seasonal change in the wildlife– with the turtles, snakes and frogs in hibernation, and few insects left.   So I was surprised to see this luminous dragonfly– the photo does not do it justice!
There are so many birds to document- with 37 species spotted just this month!  We'll have plenty to tally for the Christmas Bird Count and our 2012 Birding Big Year.  We admired woodpeckers, hawks, sparrows and more!
We began to see more of our state mammal, the White-tailed Deer.  And we enjoyed the lingering fall color of the park's plants: towering trees, shrubs… right down to the fungi!
Click on any photo for a closer look, or scroll through the photos for a virtual tour.   And remember there is more information in the photo albums on facebook!