1/15/2012 Winter Tree Walk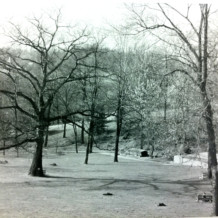 Love trees?  We sure do… which is why we are excited to welcome Dr. David Hewitt to explore the trees in Glen Providence Park!
Winter Tree Walk in Glen Providence Park
Sunday, January 15
1:00-3:00 pm
Main park entrance on State Street
David Hewitt regularly leads tree walks in Philadelphia.  He is a lecturer at the University of Pennsylvania, a research associate at the Academy of Natural Sciences,  and does a fair bit of work developing education and outreach programs on agriculture and the environment, "and other sciencey things".  He also does some work as a microbial geneticist and a consultant on sustainable development.
We think it is natural he would like to check out Glen Providence Park, which was dedicated as an arboretum in 1935, and was appreciated by naturalists long before that!  This will be David's first visit to the park, so we will start with a 5 minute intro to the park, including some historical photos of its trees.  Then we will explore the park's trees along some of the trails.
The park has a historical connection with the Academy of Natural Sciences– T. Chalkley Palmer grew up exploring the land, then called Scroggie Valley, and wrote extensively about it in 1889. T.C. Palmer went on to become the president both of the Delaware County Institute of Science 1894-1934, and of the Academy of Natural Sciences 1926-1928!
We are looking forward to this winter tree walk- you are welcome to join us!
Logistics:
Approximate distance: 1.5 miles
Approximate time: 2 hours
Be prepared for steep hills, and uneven (possibly wet) terrain: wear your hiking shoes, and bring a hiking pole if you use one! And binoculars are always a good idea- it is also a bird sanctuary, after all!