December Photojournal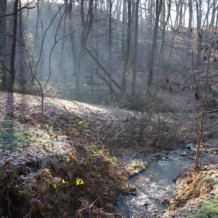 December was relatively dry and warm- it was 55 degrees on the first day of winter!  While we did not get snow (sigh), Glen Providence Park continued to be lovely: with fog, frost and ice changing the scenery.  And though reptiles, amphibians, insects and flowers may be dormant, birds and trees can be admired year-round!  Good thing Glen Providence Park is a bird sanctuary and arboretum…
We were proud to participate in the Christmas Bird Count, the world's longest-running citizen science project! It was exciting to get close enough to a Turkey Vulture roost to hear their wings as they moved.  We counted 108 individual birds of 16 species that day, and discovered a few other things in the park, from fungi to an old drinking well.
This drinking well with a hand pump was installed in 1936, along with 21 benches throughout the park– they had concrete ends like this one! Wouldn't it be nice to have more benches again?
And with further traces of things past, we discovered more fixtures for wiring– the one depicted below was over 15′ high in a dead tree along the path that leads from the sledding hill to the Ice House Trail. We know there used to be lights around the pond for nighttime ice skating(!), and there are old wires in some trees along the Ice House Trail which would seem to be from lights.
Click on any photo for a closer look, or scroll through the photos below for a virtual tour.  You can view more photos in our Christmas Bird Count post, and in our Facebook Albums: including Wildlife, Scenery, and History.