A Lovely Spring Ephemerals Walk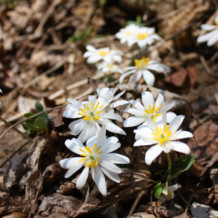 We were lucky on our St. Patrick's Day Spring Ephemerals Walk in Glen Providence Park… starting with the glorious weather!  Joining us were 19 adults, 7 children, and 2 beguiling dogs.  While we didn't find any leprechauns, we did find this patch of native ephemeral Bloodroot, and mating Pickerel Frogs!
We had a brief historical introduction to show off our 1930's postcard of the park's main entrance (shown below), and the 1960's Red Arrow Trolley brochure that encourages people to picnic at the park's "Bandstand Dell"– known as the Sledding Hill today!
We started our fun and informative tour with Marcia Tate by noting the distinctive buds of our native Flowering Dogwood on the Sledding Hill.  We then found lots of our native Spicebush covered in yellow buds and flowers. This native plant is common in the park, and has a spicy smell. Luckily for the Spicebush, the deer don't like it!
We proceeded to the Mountain Laurel Trail, where we admired the not-yet-blooming… Mountain Laurel!  The state flower of Pennsylvania, Mountain Laurel usually blooms around May, but its structure makes it beautiful year-round. Marcia compared samples of Mountain Laurel and Rhododendron buds- the Rhododendron along the Ice House Trail usually blooms in mid-June.  Of course with this year's warm temperatures, many things could bloom early…

Most of the Skunk Cabbage is past the flowering stage, but we found some remaining flowers along the Shingle Mill Trail.  While the lovely native ephemeral Trout Lily has not yet emerged, we were thrilled when we found a patch of the native ephemeral Bloodroot, Sanguinaria canadensis! 
The underground stems have red juice- thus the name.  Of course we also found plentiful invasives, including Celandine, pretty Periwinkle, and the pervasive Multiflora Rose.
To top it all off, we found mating Pickerel Frogs!  They're the only frog species in this region that call underwater. We just happened to have a hydrophone on loan from Dr. Mac Given, enabling us to listen underwater at the pond… and we did hear something, but I'm not sure whether it was the Pickerel call.  However a low croaking call (above water) is what led us to find this pair– you can listen to the Pickerel's call here. 
It was a wonderful morning- thank you so much to Marcia Tate for her engaging tour, and to everyone who attended!