A Playful Pond Walk!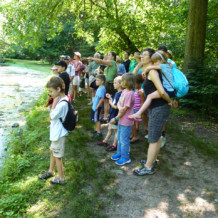 What fun we had on our June 23 Pond Walk!  It was a beautiful morning, and we had our biggest turnout yet- there were at least 19 adults and 17 kids… so many that we lost count!  Led by knowledgeable biologist Aura Lester, we learned about topics including native and invasive pond plants, the dragonfly life cycle, frogs, and muskrats.  As one attendee noted, we are not sure who enjoyed it more- the kids or the adults!
After a primer about being nature detectives with quiet observation, we started with a walk around the pond, of course!   Thanks to the sharp eye of one of the adults, we watched as the pond's Common Muskrat gathered vegetation around the pond's edge, and took it back to its burrow.  The muskrat's motions are almost silly, and it was entertaining to watch!  Other sightings included a large, intimidating-looking carp, Painted Turtles, and dragonflies.   We examined the aquatic vegetation, and sadly learned that the lovely White Water Lilies are not native.
Aura led the kids in a game of dragonfly tag, and took samples of pond water for the kids to investigate under a magnifying glass.  It all ended with a delightful frog craft– leaving the adults jealous of the kids!
A big thank you to Aura Lester for the informative and fun pond walk, and to everyone who attended!
Scroll through the event photos below for a virtual tour… photos by Marcia Tate unless otherwise noted.