June Photojournal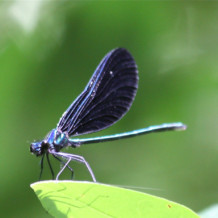 June brought heat waves, thunderstorms, and a world of insects to observe in Glen Providence Park!  One of my favorites is the Ebony Jewelwing, this incredibly blue damselfly which is abundant throughout the park.  There are plenty of dragonflies around the pond, including the aptly named Eastern Amberwing, and the Common Whitetail with its lovely markings.  The Red Admiral butterfly has amazing black and white striped antennae- look for photos of all these below!
A huge Carp was just one of our sightings on our fun Pond Walk.  The Common Muskrat is amusing to watch as it swims around the pond, gobbling up and gathering vegetation- it paid no attention as it swam right past a fishing Green Heron.
Familiar birds enchanted and entertained visitors to the park- it is always exciting to see Great Blue Herons at the pond!  I watched a juvenile Eastern Phoebe catch insects and then perch on our deer fencing- I was glad to see the phoebe nest in the park had been successful!  A stunningly red Scarlet Tanager was feeding along the Shingle Mill Trail, and I watched a Juvenile Crow successfully begging for pizza(!).  Throughout the month, the "one-bird duet" of the Wood Thrush continued to lend the woods a magical air, though I never did see chicks at its seemingly abandoned, and probably unsuccessful, nest.
There were already fungi emerging in early June, with a remarkably large and orange Sulfur Shelf.  By mid-month, the native rhododendrons along the Ice House Trail's eastern hill were in bloom.  I saw a few orange Jewelweed flowers towards the end of the month- Jewelweed seems to be especially abundant in the park this year, so there should be many more flowers soon along Broomall's Run and around the pond!
Click on any photo for a closer look, or scroll through the photos below for a virtual tour.  You can view more photos in our past photojournals, and in our Facebook Albums: including Wildlife, Plant Life, Scenery, and History.