Happy Anniversary!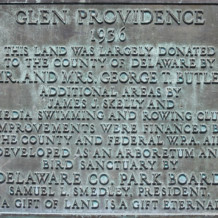 One year ago today, we held our first Friends of Glen Providence Park meeting at Seven Stones Cafe in Media.  It certainly has been a busy year!
We organized in response to the threat posed to the north end of the park by the 3rd Street Dam design.  We have worked hard over the past year to advocate for minimizing the damage to the park from the 3rd Street Project, and we will continue to do so.
What was unexpected was Glen Providence Park's rich history we discovered- from the 1700's Ghost Story, to the days it was called Scroggie Valley, to the park's decades of events and community involvement.  Discovering that Glen Providence Park had been determined eligible for the National Register of Historic Places was just icing on the cake!
We have delighted in learning about the park's plants and wildlife, which we chronicle in our photojournal.  Our first citizen science projects have been to document the park's birds and trees, as Glen Providence Park was donated by George and Eleanor Butler to be a Bird Sanctuary and Arboretum! 
We have met wonderful people at our monthly events, including six nature walks and four work projects- we are especially proud of the native trees and shrubs we planted for Earth Day!  Stay tuned… we have plans into 2013 to continue our work to preserve and enhance the natural and historic resource of Glen Providence Park.
Thank you to all who have followed us on our website, facebook, and newsletter; attended our events; joined our committees; attended Borough meetings; lent their expertise; volunteered; signed our petition; led our nature walks; and even donated to support our efforts.  We are happy to see so much community support for Glen Providence Park.
Enjoy the park!