Founding Funders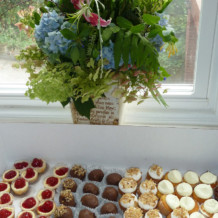 We are incredibly grateful to all of the Founding Funders who made our first fundraising campaign a success- we even had an Anonymous Donor match all of the Founding Funder donations!  These initial funds support the continued efforts of the Friends of Glen Providence Park to preserve and enhance the park.
On Sunday, July 15, just a day after our one year anniversary, we had a thank you reception for our Founding Funders.  Lisa Johnson welcomed 36 of our 45 Founding Funders in her elegant home bordering the park.  We were treated to the enchanting cello of David Rumsey, which provided a backdrop to the many wonderful conversations.  Topics included adventure travel, local history, ideas for the park, and even offers to further help with our efforts for Glen Providence Park. Talk of local ghosts seemed appropriate, when we learned so much about Glen Providence Park's history through its 1700's Ghost Story!
The food was absolutely delicious- it was donated and/or discounted by generous businesses in Media, each located just 2 to 6 blocks from the entrance to Glen Providence Park!  There were appetizers from Desert Rose and 320 Market Cafe; dishes from Shere-e-Punjab Indian Restaurant and Diego's Cantina & Tequila Bar; desserts from Sinfully Delicious Gourmet Pastries and Media Pizza & Grill; drinks from Iron Hill Brewery & Restaurant, and coffee from Seven Stones Cafe!
We are so grateful for the support and involvement of the community. To all of our Founding Funders, donating businesses, our Anonymous matching donor, and our volunteers…
Thank you.
Pboto credit Marcia Tate