July Photojournal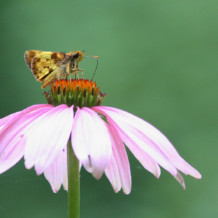 We just passed the first anniversary of Friends of Glen Providence Park, and now we have one year of monthly photojournals!  It was fun to track the plants and wildlife in Glen Providence Park this past year, starting last August.  In July, we were happy to see the Echinacea we planted as part of our Earth Day Plantings in bloom, and hosting wildlife!
By early in the month, the Duckweed had overtaken the pond- much more so than last summer.  This did not seem to deter the pond's Common muskrat– it would be nice to think the muskrat would eat some of the duckweed!  Frogs at the pond are always entertaining to watch, and when startled, the Green frog makes a sound like "eek!" before leaping!
The birds were much quieter in July– as naturalist Tom Reeves explains, they are no longer defending their territory or seeking mates, so sadly there is no need for all that singing! By mid-month, their sound was replaced by the "singing" of Cicadas– last year the Cicadas ended in the first few days of September, so they should remain through August.
With things in the park getting quieter, our focus got smaller- with plenty of interesting insects and fungi to observe!  There were jumping spiders, butterflies, dragonflies and damselflies– we learned that damselflies use their hind legs, covered with hairs, to capture prey as they fly!  And something about the little mushrooms is enchanting- it's like there's a separate miniature world in the park!
We were able to observe a pair of White-tailed deer as they munched on vegetation, which made me glad for the deer fencing protecting our Earth Day Plantings! Now if only we could train the deer to eat all of the invasive Multi-flora rose…
As this summer may be the hottest summer on record, I especially appreciated that the park usually feels several degrees cooler than it does in town (just a few blocks away!).  According to the U.S. Department of Agriculture, "the net cooling effect of a young, healthy tree is equivalent to ten room-size air conditioners operating 20 hours a day."  Glen Providence Park has an awful lot of natural air conditioners!
After last year's lack of acorns, it was nice to see the park's oaks full of acorns this year.  That should give the wildlife that dines on them plenty to eat this fall!
Click on any photo for a closer look, or scroll through the photos below for a virtual tour.  You can view more photos in our past photojournals, and in our Facebook Albums: including Wildlife, Plant Life, Scenery, and History.