10-14-2012 Nature & Ghost Walk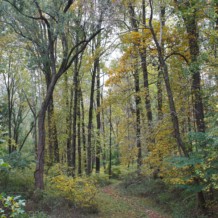 It's a "historical" ghost & nature walk in Glen Providence Park!  We won't have costumes, makeup, or theatrics- but you can find out more about the park's historical ghost and witch stories, and other strange events in and around Glen Providence Park. And of course the park's plants and wildlife!

A Nature & Ghost Walk!
Sunday, October 14
rain date Sunday, October 21
2:00-4:00pm
Glen Providence Park main entrance


Children:
While the stories are not overly scary, you may want to preview the 1700's Ghost Story and 1800's Witch Story and decide whether to bring young children, or those impressionable by ghost stories.
Logistics:
As with all of our events, this is Free!
Approximate distance: 1 mile
Approximate time: 2 hours
Meet us at the main entrance on State Street. We will start our history intro at 2:00 sharp!
Be prepared for steep hills, and uneven (possibly wet) terrain: wear your hiking shoes, and bring a hiking pole if you use one! And binoculars are always a good idea- it is a bird sanctuary, after all!
Rain date:
Sunday, October 21, 2-4:00pm
If weather is questionable on October 14, we will post on our facebook wall by 1:00pm whether we will use the rain date.
To add this event to your favorite calendar program (iCal, Outlook, Google, etc.), view the event listing on our calendar.