American Chestnuts in Glen Providence Park!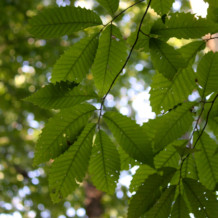 This fall, we were delighted to confirm that we found two healthy young American Chestnut trees in Glen Providence Park!  At the beginning of the 20th century, the American Chestnut, Castanea dentata, was a majestic tree dominating our eastern forests. Known as the Sequoia of the east, it was one of our tallest trees.  It was the preeminent tree from Maine to Mississippi, and constituted well over 25% of trees in Pennsylvania!
Its nuts and wood were highly valued by European colonists, and doubtless by the Okehocking who lived here before them.  According to the American Chestnut Foundation (ACF), it was the single most important food source for a wide variety of wildlife from bears to birds.
Then the Chestnut blight, Cryphonectria parasitica, was discovered in 1904 on imported Asian Chestnut trees in New York City, and it spread across the east- killing an estimated 4 billion trees by 1950.  Healthy trees were cut down in a failed attempt to stop the spread of the blight.  Saplings still grow from the root sprouts, but they usually die off again when the saplings are large enough to become infected themselves.  But there are some larger survivors…
Finding Glen Providence Park's Chestnuts- by accident!
While volunteering at Tyler Arboretum's American Chestnut Nursery, which is led by John Wenderoth, I learned to differentiate American, Chinese and Japanese Chestnut leaves.  With John, we sent leaf samples to the ACF for identification and confirmed blighted American Chestnut saplings in Long Point Wildlife Sanctuary in Rose Valley, and a Japanese Chestnut on the Sledding Hill in Glen Providence Park!*
Then in Glen Providence Park last October, I was photographing some bright yellow mushrooms I had noticed on the eastern hill, when I looked up and marveled to see what looked like American Chestnut leaves!  There are two chestnut trees measuring about 15′ and 25′ tall.  This fall, Sara Fitzsimmons of the Pennsylvania Chapter of the ACF confirmed by microscope analysis that the leaves are American!  We also found chestnut burrs (the spiky nut casings) on the western hill, but have not yet located their tree…


History of Chestnuts in Scroggie Valley
It turns out it is not so surprising to find these chestnuts, as we uncovered historical documentation of American Chestnuts in Scroggie Valley, most of which would become Glen Providence Park.
T. Chalkley Palmer's detailed 1889 description of Scroggie Valley mentions chestnuts: "The northwest wall is… nearly devoid of trees.  The southeast wall is wooded continuously with oaks and chestnuts." And he described the singing of the Hermit Thrush "…of a morning, from the top of the chestnut tree on the hill."
Even earlier, an 1855 map of Media labels as "Chestnut Wood" the area to the east of Broomall's Run, near what is now Broomall's Lake.  Some of those may have been submerged when dam was built in 1883, and according to a 1905 article about the Media Grackle Roost near Broomall's Lake, the rest were logged: "On the eastern side of the lake and stream the old "Camp Meeting Woods," principally chestnut, was wrought up for commercial purposes". 
By 1912 the blight had hit our area: according to a Chester Times report of a Chestnut Blight talk at the Delaware County Institute of Science, the blight was "generally spread" in Eastern Pennsylvania, but had not yet spread to the Western part of the state.
In 1915, the Chester Times lamented the near-decimation of the chestnuts and their beautiful woods: "Many of the hills in and near Media, which have in past years been noted for their beauty because of the forests which crowned them, will, before the end of the present summer, stand bare except for the disfiguring stumps, mute reminders of the old conditions."
Amazingly, as recent as 1935 there is documentation of chestnuts in the park- the Chester Times described chestnut saplings on George Butler's estate, which would soon be donated for Glen Providence Park: "A close observer of nature finds many young chestnut trees coming up on the estate of Edward B. Creighton and Mr. Butler."   The article recalls, "In days gone by… those having nut trees on their estates and farms would have house parties and their guests would carry back to their homes baskets filled with nuts…"
While over time most of those saplings would have succumbed to the blight, we now know that at least two have survived!  We provided these historical records to the ACF, and we will continue to monitor these two American Chestnuts for them- and look for more!  We also hope to plant more American Chestnuts in Glen Providence Park, with the help of the ACF's research…


Restoration efforts:
There have been a variety of efforts to save the American Chestnut since the blight was discovered, from fungicides to irradiation.  As a result of decades of "backcrossing" Chinese and American Chestnuts by the ACF, there is now a hybrid "restoration chestnut"  with 94% American genes, but with just enough Chinese traits to provide blight resistance.  Tyler Arboretum's American Chestnut Nursery grows trees to provide nuts to help preserve a genetic stock of pure American Chestnuts.
On a personal note, I learned that my grandfather worked on restoring the American Chestnut for decades in his retirement, which I didn't know until after I became interested in American Chestnut restoration and started volunteering!  His work is cited in Susan Freinkel's 2007 book "American Chestnut- The Life, Death, and Rebirth of a Perfect Tree."
Keep your eyes out in the park (and in your family records!), you really never know what you will find!
* I had actually been tipped off about there being a chestnut tree on the Sledding Hill when HACC Biology Professor Geremea Fioravanti of the Delaware County Institute of Science posted a photo of a chestnut burr on our facebook page!
For more information:
– Visit the American Chestnut Foundation and PA Chapter of the American Chestnut Foundation websites
– Read  "The chestnut resurrection," Nature, October 4, 2012
– Volunteer at Tyler Arboretum's American Chestnut Nursery!
Surviving American Chestnuts & restoration efforts in Pennsylvania include:
– Natural Lands Trust's Mariton Preserve in Easton, PA
– Jenkins Arboretum in Devon
Additional Sources:
– "Scroggie," T. Chalkley Palmer, The Student, Germantown, PA, December 1889 & January 1890
– "The Media Grackle Roost," Samuel Omensetter, Cassinia, Proceedings of the Delaware Valley Ornithological Club, No. IX, Philadelphia, PA, 1905
– "American Chestnut – The Life, Death and Rebirth of a Perfect Tree," Susan Freinkel, University of California Press, 2007
Chester Times articles:
– No Known Cure for Chestnut Blight – August 13, 1912
– Passing of the Woods – May 1, 1915
– Relics of Chestnut Blight – Gaunt Skeletons Rear Themselves in Every Wood Tract – August 10, 1916
– Unique Arboretum on County Estate – June 14, 1935
You can click on any photo for a closer look, and scroll through the photos below.