Christmas Bird Count 2012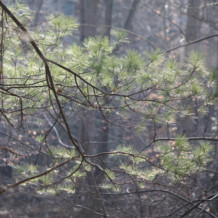 It was a beautiful, crisp, sunny winter morning for our second year participating in the Christmas Bird Count in Glen Providence Park.  Our 8:30 start was after that of some dog walkers, so our four-legged friends may have scared off some birds- we counted a total of 80 birds of 15 species.  While it was our second year, it was the 113th year for the CBC– the world's longest-running Citizen Science survey!
The frost and lighting were absolutely lovely, and it was a peaceful way to spend a December morning.  In keeping with the season, we saw evergreen Christmas fern and American Holly.  And we watched two White-tailed bucks as they made their way through the undergrowth and up the hill- they are always so much more impressive seen while hiking in the woods than from a car!  Other enchanting sights included a shower of "petals" fluttering down on us from the fruit of a Tuliptree high above, the morning light illuminating a pine tree, the curious gnarled bark of a tree, and some moss peaking out from some frosted leaves – there is always something to see in the park!
As for the birds, we enjoyed watching two pairs of Mallards swimming in the pond, three species of woodpecker, and more of the usual winter suspects (but oddly no sparrows!).  They are all charming to see. Our complete list is below- next year we will set an earlier start time for our Christmas Bird Count!
Click on any photo below for a closer look, or scroll through the photos for a virtual tour.  For more bird photos, visit our Wildlife Album on Facebook.
Here is our official Christmas Bird Count list for Saturday, December 15, 2012:
Mallard 36
Mourning Dove 3
Belted Kingfisher 1
Red-bellied Woodpecker 4
Downy Woodpecker 2
Northern Flicker 3
Blue Jay 4
American Crow 2
Carolina Chickadee 6
Tufted Titmouse 5
White-breasted Nuthatch 4
Carolina Wren 2
Northern Mockingbird 1
Dark-eyed Junco 2
Northern Cardinal 5
You can compare it to the list from our 2011 Christmas Bird Count!