Our 2012 Birding Big Year!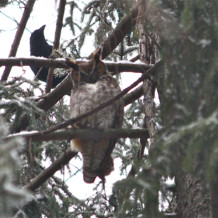 The numbers are in… we spotted 83 species in the park during our 2012 Birding Big Year, and we are up to 99 total bird species documented in Glen Providence Park!  We completed this citizen science project by submitting 227 checklists to eBird in 2012- that's a lot of birdwatching!  It was exciting to document the diversity of species inhabiting and migrating through Glen Providence Park, which was dedicated as a Bird Sanctuary and Arboretum in 1935.
We got the idea for this project from the 2011 movie The Big Year, based on a true story about three men"who race across the continent on a Big Year, a whirlwind competition to see who can observe the most species of birds in North America within one calendar year".
We are so glad we took this on, leading to some enchanting encounters: watching American Crows try to scare off a Great Horned Owl, seeing a Great Blue Heron take flight over the pond, and watching a Brown Creeper in the snow. There was the startling red of the Scarlet Tanager, the ethereal song of the Wood Thrush, the adorable Eastern Phoebes and the maddening elusiveness of warblers… Speaking of warblers, there were decidedly more we were never able to identify- so we expect to add more warblers and other species in future years!
We would never have identified as many birds as we did without some expert help.  We cannot thank the Birding Club of Delaware County enough, starting with Al Guarente announcing our Big Year on the BCDC blog before we did!  BCDC members submitted some of their own checklists from the park, and Al even identified some of our additions from emailed photographs.  They led a delightful Winter Bird Walk and Fall Bird Walk.  Thank you, Dave Eberly, Tom Reeves, Nick Pulcinella, Nick Crocetto, and the ever-helpful Al Guarente!
You can view our complete Big Year list of 83 species on eBird, and our complete Park Bird List of 99 species (and counting…).  We'll continue to submit our checklists to eBird, of course- but perhaps not as frequently!  Some of our 2012 Big Year photos are shown below, and you can see what birds we added each month in the comments section of our Big Year blog.  For more photographs, see our Facebook Wildlife Album and our Photojournal.
Click on any photo for a closer look, or scroll through to see them all.