Concept Sketch of Glen Providence Park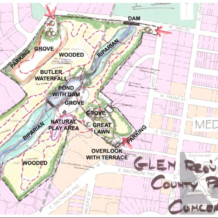 Individuals from the Friends of Glen Providence Park attended the second public meeting for Delaware County's Open Space Plan on Tuesday March 12, 2013.  Delaware County Planning recently posted the meeting's presentation files on its website, giving those who did not attend the Public Forum the opportunity to review and comment on the long range concept plans for six County parks, including Glen Providence Park.
Public feedback is an important element in the Open Space Plan process, and County Planning, County Parks & Recreation, and the consultants are thoughtfully considering comments and feedback.
There is a significant change proposed for the Glen Providence Park pond and Broomall's Run, outlined below- please take the time to review the Concept Sketch for Glen Providence Park, and provide your feedback to County Planning. While there is no specific deadline, we recommend replying no later than Friday, May 3.
We have included a guide and links to the three sections of the presentation that are posted on the County website.  If you have any comments, ideas, or suggestions regarding the County parks plans, please email them to Senior Planner, Steven R. Beckley, AICP at BeckleyS@co.delaware.pa.us, or print and fill out the evaluation form used at the Forum and return it to the address, fax, or e-mail listed at the bottom.
The 3 Presentation sections are as follows:
– Timing & Objectives: the list of objectives is thoughtful and excellent.  There are additional Public Meetings planned for Fall 2013 and January 2014 to review Final Drawings and Draft Recommendations, then a Final Public Meeting to present the Plan.
– Needs Assessment, Survey Findings, Values & Philosophy, The Big Picture and Trends: All of the public feedback so far emphasizes the need to preserve natural open spaces in Delaware County, and prioritizes passive use such as hiking trails.
– Specific Park Proposals include Concept Sketches for Glen Providence Park and other parks

There are some significant proposals made for Glen Providence Park:
Please refer to the PDF of the Concept Sketch for Glen Providence Park, and give the County feedback on the following proposed changes to the park:
– Divert Broomall's Run through the pond: This is proposed to address ecological and erosion problems at the pond, as we outlined in Upcoming Changes: Pond & Wetlands. Would you want to see the stream adjacent to the pond filled in, and relocated to run through the pond? Do you have any environmental expertise to know whether this would be helpful or harmful to the pond and stream ecology?
– Additional parking lot built at Kirk Lane: Have you ever found the Kirk Lane parking lot to be full? Do you see a need for more parking spaces?  What do you think of the proposed location?
– ADA accessible terrace below the main entrance overlook: Do you feel this would be used? Do you think it would positively or negatively impact the main entrance?
– Children's Natural Play Area, using natural materials to make features such as stepping stones, walkways, and balance beams near the picnic pavilion: How do your children use the park? Is this a feature you would like to see, or that your children would use?
* May 2, 2013 Update: Please see the comments below for an explanation of why we do not support the first two proposals.

Other identified Park Needs & Long Range Ideas include:
– Structure repairs & maintenance
– Trail maintenance standards
– Repair restrooms
– Erosion control
– They are considering our idea to re-establish the Eleanor Reed Butler Waterfall as a recirculating waterfall from the pond!
– Improve signage
Please make any specific comments on County Planning's evaluation form, and reply to Steven R. Beckley by email, mail, fax or phone.

Thank you!