A Fun Stream Cleanup!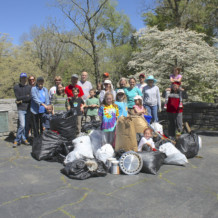 At the 16th Annual Chester-Ridley-Crum Watersheds Streams Cleanup, at least 18 adults and 15 children removed 8 bags of trash and 15 bags invasives from Glen Providence Park!  There were also some odd items including a hubcap, a paint can, a five gallon bucket and a pipe.
Some volunteers walked along Broomall's Run, stepping carefully so as not to disturb the wildlife in the stream, clearing trash that had been caught along the stream banks. We were rewarded by spotting a Pickerel Frog and salamanders, and we remarked at the numerous natural springs that feed Broomall's Run! There were also some stunning trees in bloom.
In another project, Brownie Troop #5248 helped clean, and plant flowers at, the concert stage.  We are getting ready for our Summer Concert Series!  More volunteers cleared trash and invasive plants from the trails.
It was our second cleanup this year, and our second year helping with the CRC Streams Cleanup, which removes tons of trash each year from our local streams.  Glen Providence Park is one of 24 sites along Chester, Ridley and Crum Creeks and their tributaries where CRC volunteers cleared trash.  Many volunteers met afterwards for CRC's picnic in Ridley Creek State Park.
It was a beautiful Spring morning, with good company, and trees and flowers in bloom. Thank you so much to the volunteers- what a productive and fun event!
You can see our pictures below, and you can also view them with descriptions on our new flickr page! 
[AFG_gallery id='6′]