10-19-2013 Wicked Plants & Historical Ghost Walk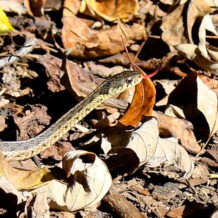 It's a "historical" ghost & nature walk in Glen Providence Park!  We won't have costumes or theatrics- but we'll explore the dark side of the park's plants and history. Find out more about the park's 1700's Ghost Story and 1800's Witch Story, and other odd events in and around Glen Providence Park. And we'll look for some of the park's strange and poisonous plants!
Wicked Plants & Historical Ghosts!
Saturday, October 19
3:00-5:00pm
Glen Providence Park main entrance
rain date Sunday, October 20, 2-4pm
The walk will be led by me (the park history buff) and native plants expert Marcia Tate.
Logistics:
As with all of our events, this is Free!
Approximate distance: 1 mile
Approximate time: 2 hours
Meet us at the main entrance on State Street. We will start our history intro at 3:00 sharp!
Be prepared for steep hills, and uneven (possibly wet) terrain: wear sturdy shoes, and bring a hiking pole if you use one!
Rain date:
Sunday, October 20, 2-4:00pm
To add this event to your favorite calendar program (iCal, Outlook, Google, etc.), view the event listing on our calendar.