Birds & Spring Ephemerals!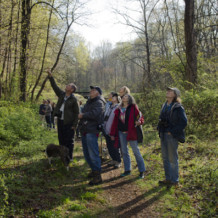 What a beautiful, crisp spring morning in Glen Providence Park on Saturday for our Bird & Spring Ephemerals Walk! We saw 30 species including Blue-gray Gnatcatchers, Ruby-crowned Kinglets, and a Black-and-white Warbler. Spring ephemerals and native flowers included Jack-in-the-Pulpit, Merrybells, Bloodroot, and Trout Lilies.
Thank you to everyone who attended, the Birding Club of Delaware County, to Nathaniel Sharp for entering our sightings on eBird, George Tate for the wonderful photos, and of course to Al Guarente and Marcia Tate for leading our walk!
You can see the full bird list from our walk below, and scroll below that for photos. And you can check out our complete Park Bird List of 109 species, and counting!
Spring Bird Walk eBird list:
April 26, 2014
Canada Goose – 2
Mallard – 4
Great Blue Heron – 1
Turkey Vulture – 2
Mourning Dove – 3
Belted Kingfisher – 1
Red-bellied Woodpecker – 2
Downy Woodpecker – 3
Northern Flicker – 1
Eastern Phoebe – 2
Blue Jay – 5
American Crow – 8
Northern Rough-winged Swallow – 3
Carolina Chickadee – 6
Tufted Titmouse – 12
White-breasted Nuthatch – 2
House Wren – 1
Carolina Wren – 4
Blue-gray Gnatcatcher – 2
Ruby-crowned Kinglet – 2
American Robin
European Starling
Black-and-white Warbler – 1
Chipping Sparrow – 1
Song Sparrow – 5
White-throated Sparrow – 7
Northern Cardinal – 7
Red-winged Blackbird – 1
Brown-headed Cowbird – 2
American Goldfinch – 5