Nature Walks in the Park!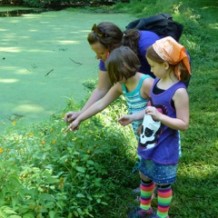 We get so busy preparing for our events and other activities in Glen Providence Park, we don't always find time to write about them afterwards! We've documented our bird walks and volunteer days since last fall, but hadn't written about our other nature walks. Below we catch up on recounting our nature walks, and we include some photographs. Make sure to join us for some of our upcoming 2014 events – they are always free and open to the public!
August 2013 – Pond Walk for Kids
Science teacher Aura Lester engaged our senses and imagination throughout this fun pond walk. We had a great turn out (28 people!) on a beautiful summer day – adults and children alike enjoyed spotting wildlife at the water's edge. There was something to learn for all ages, who knew that a bull frog could eat a duckling? The leaf rubbings and plant pressings were a fun, educational project to take home as a reminder of the day.
October 2013 – Wicked Plants & Ghosts
Fourteen kids and adults joined Marcia Tate and me on another "walk on the dark side" of the park's plants and history.  We enjoyed the autumn afternoon recounting the locations and other elements of the 1700's Ghost Story and 1800's Witch Story, along with other strange tales. Marcia taught us about toxic components of Black Walnuts, White Snakeroot, Skunk Cabbage, and more!
November 2013 – Scavenger Hunt for Kids
It was perhaps our largest nature walk yet – we had at least 40 children (plus adults!) at our Scavenger Hunt for Kids! They had fun with a real-world "I Spy" looking for hidden Lego men, crayons, and other "unnatural" objects in a natural setting; then a nature scavenger hunt; and just running around and enjoying the beautiful fall afternoon in the park! Thank you to Holly Hoffmann and Chris McNichol for leading this fun event.
January 2014 – Winter Tree Walk
It was a gorgeous sunny winter morning for our Winter Tree Walk in the park! Thirteen intrepid souls braved 19-degree weather to learn about tree identification, starting out just before the first sledders arrived. Birds were mighty active, too – with the sighting of a Ring-billed Gull adding to our Park Bird List. Thank you to John Wenderoth and Ted Cavey for sharing their knowledge about trees!
February 2014 – Winter Nature & History Walk
We had a wonderful, engaged group on our walk in the beautiful, snowy woods! Thank you to the 9 adults, 1 child and 2 dogs who navigated the ice, slush and mud along the trails. I had fun sharing historical photos, maps, and descriptions on location, and Marcia always has such interesting information about the native plants.
Thank you to everyone who attended these park events, and to our wonderful volunteer walk leaders! You can see photos from some of our events below – thank you to George and Marcia Tate for the lovely photographs!