8-9-2014 Herpetology Walk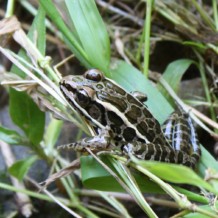 Join us as we look for reptiles and amphibians in Glen Providence Park! We will be led by Kyle Loucks, the South East Regional Coordinator for the Pennsylvania Amphibian and Reptile Survey (PARS) – a project to gather valuable data for study and conservation of amphibians and reptiles ("herps"). We are participating in PARS as our 2014 Citizen Science Project – you can read more about PARS and see our Park Species List and photo gallery!
Herpetology Walk
Saturday, August 9
7:30-9:30am
Rain or shine
* Park entrance at 3rd & West Streets in Media *
Logistics:
* Please note the location- we are starting at the entrance at Third and West Streets in Media. *
Be prepared for uneven (possibly wet) terrain: wear sturdy shoes that can get wet.
Free!
While we welcome leashed dogs to many of our park events, this time we will be looking for sensitive wildlife, so please leave those cuties at home.
Rain or shine.