A Pond Walk in Summer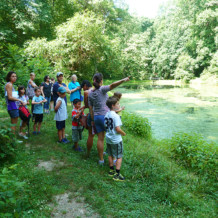 On June 28, a beautiful early summer day, environmental science and biology teacher Aura Lester delighted an audience of 18 children and adults with fascinating facts about the flora and fauna of Glen Providence Park. Walking down the hill from the entrance to the park, we stopped to identify a few of our native plants including a sassafras tree by its mitten shaped leaves, the spicebush by the fragrance of its bark and poison ivy by its "leaflets three".
As we walked toward the glen basin, we spotted native Jewelweed, used as an antidote to the itch of poison ivy. Also identified were some unwelcome invasive plants creeping along the stream edge including multiflora rose, Japanese honeysuckle and common privet.
Nearing the pond, Mrs. Lester reminded the children to approach quietly as nature detectives. Standing still observing from the perimeter, a green patina on the shallow, slow moving water came to life as fish darted just below the surface glinting in reflected daylight and turtles were spied sunning on logs, dragonflies flitting above it all at the marshy edges.
We circled the pond to the other side hoping for a glance of our resident muskrat, but  he did not come out of his burrow this time. The children spotted frenzied activity at ground level and then a profusion of tiny frogs began to emerge from the turf. We watched our step from that point on!
Heading back up the hill to the stage area, Aura led the children in a game of dragonfly tag. The theme continued with an entertaining craft making dragon flies out of spring clothes pins. All went home with glitter glue rainbow colored fingers and a hand made reminder of a sunny summer day!
Hearty thanks to our resident biologist Aura Lester and all who attended for an educational and fun filled event.
Check out the photos of the fun below!