Winter 2013-2014 Photojournal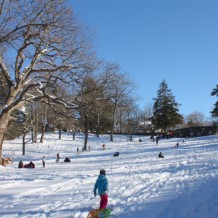 It was a winter wonderland in Glen Providence Park last year! Pennsylvania Woolly bear caterpillars had "predicted" last fall that the 2013-2014 winter would be cold and wet – oh, how right they were. Philadelphia had its third snowiest winter on record (since 1872), making for abundant sledding and magical scenery for winter walks. In February, we found a large valentine written in the snow on the frozen pond!
The temperature went as low as 4 degrees, but we observed birds foraging even on our coldest excursions in the park, leaving us to marvel at the resilience of these creatures. The sightings of Snow Geese and Ring-billed Gull brought our Park Bird List to 105 species. We captured our first photograph of a Bald Eagle in the park, being chased by American Crows! The intriguing Skunk Cabbage once again melted its way through the frozen ground, the first plant to flower each year – in winter.
You can click on any photo below for a closer look, and scroll through them all. You can compare our 2013-2014 winter to other years in my photojournals for December 2011, January and February 2012, and winter 2012-2013.  
[AFG_gallery id='15']